Nov 17, 2021
COP26 in the shadow of a decade of reckoning for climate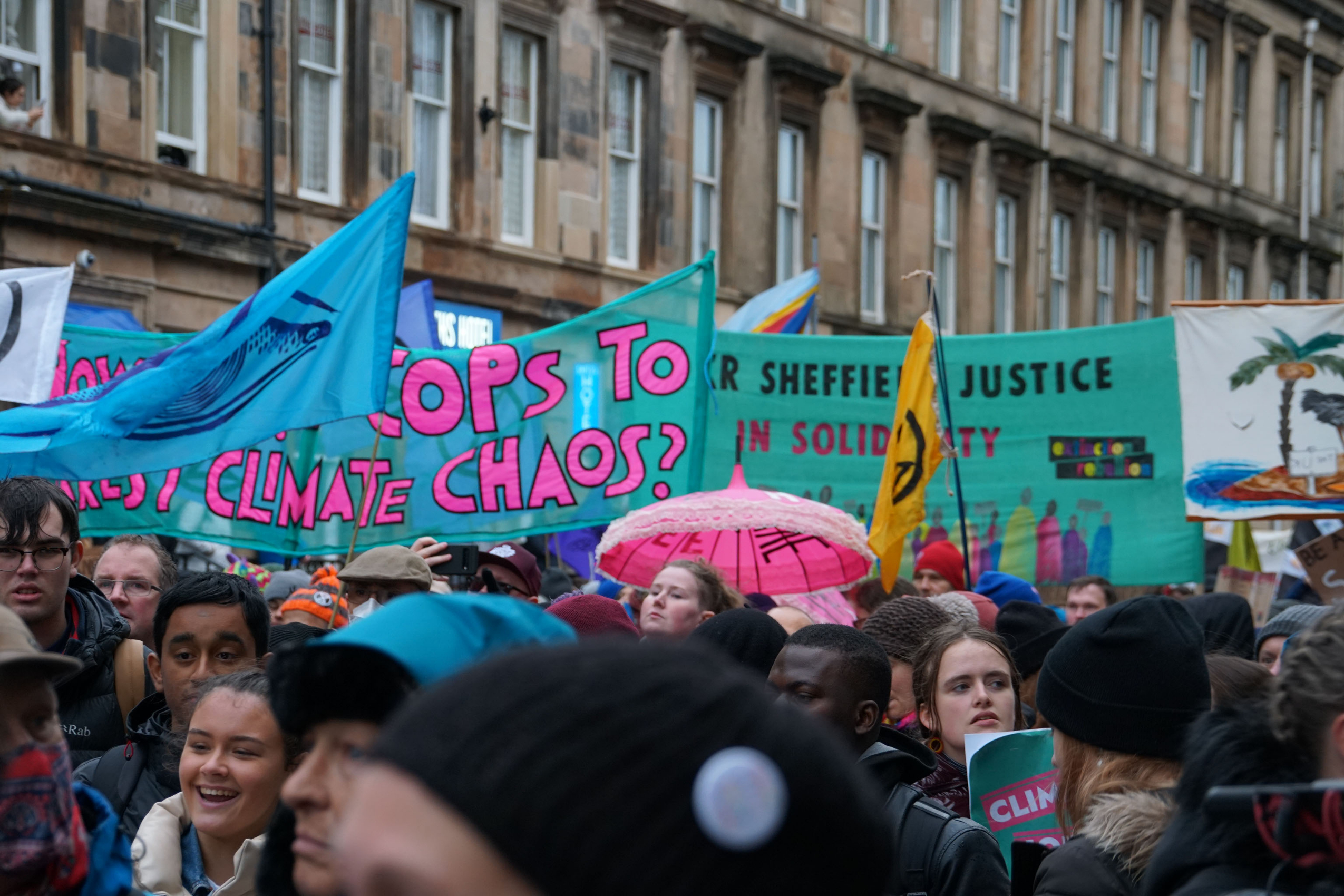 Ellen Anderson, MCEA Climate Director, St. Paul Office, November 17th, 2021
As the dust settles from two weeks of climate conversations, negotiations, and marches in Glasgow, Scotland, MCEA's delegation has returned to Minnesota. While the media coverage of COP26 put a spotlight on the climate crisis, it was also full of contradictions - praise for the agreements that were reached, despair that more aggressive action to phase out fossil fuels was set aside. I'm writing today to help us make sense of all of it: Why it matters that Minnesotans were there, and what we must do in response. 
The worldwide climate conference wrapped up Saturday evening with an agreement - known as the Glasgow Pact - reached among the nearly 200 countries in attendance to continue aims to limit global warming to 1.5 degrees. Compared to most political systems, the mere act of reaching consensus these days seems almost miraculous. Given the scale of the crisis, however, COP26 was by no means a slam dunk. We've highlighted a few of the big developments that came out of the summit below, but the main message we're coming home from COP26 with is this: There is no US climate solution without the Midwest, and Minnesota must be a leader in our region.
The Glasgow Pact goes beyond previous climate agreements in several significant ways, including: 
Stressing the urgency of increasing ambition and action in "this critical decade" to follow the science, which says greenhouse gases must be reduced by at least 45 percent by 2030 to avoid the most catastrophic impacts of climate change 
Resolving to hold warming to 1.5 degrees 
Containing a sense of urgency that accelerates timelines and pushes the parties (countries) to return in 2022 with new Nationally Determined Contributions (NDC) pledges
Stating that carbon budgets once consistent with achieving the Paris Agreement temperature goal are now "small and being rapidly depleted"
Several very significant commitments were also made during the COP, including:
90% of the world now has "net-zero" commitments, compared to 30% two years ago
Many more countries have committed to phase out coal power and stop financing coal
130 countries pledged to end deforestation by 2030, covering 90% of the world's forests
100+ countries agree to cut methane 30% by 2030
Despite these gains, to many, COP26 amounted to little more than the 25th time global leaders met and failed to act boldly enough to save the planet. Perhaps most notably, the richest and most polluting nations failed to commit adequate funds at the summit to help the poorest countries transition to zero emissions and compensate for the climate damage they have already experienced. To others, COP26 was another incremental step forward to getting global commitments to a 1.5 degree Celsius future that would avoid the worst impacts of the climate crisis. Neither perspective is wrong.
It's critical to acknowledge, and difficult to argue, that this particular meeting of the COP was by design and situation particularly exclusive. Uneven global access to vaccines left some representatives from the countries most impacted by climate change unable to attend, for example. Meanwhile, COP26 organizers and world leaders again failed to center the knowledge and role of indigenous peoples inside of the summit, room capacities limited due to social distancing left many observers shut out of important dialogs, and COVID regulations made travel logistics more complicated and more expensive, which undoubtedly impacted accessibility for many.
However, through it all, our global community spent the last two weeks more focused on climate than any other time in recent memory. That is a victory that should not be understated. But it only matters so far as it translates into action around the world and at home here in Minnesota. 
This is the decade of reckoning for climate, which means we cannot afford to take our foot off the accelerator for a moment. We have to keep working at this and keep pushing as hard as we can, day after day, year after year. 
For MCEA, COP26 was an opportunity to bring Minnesota's voice to the global stage, and reflect back to Minnesotans the responsibility our region and state have in the global climate movement. It was an opportunity for local, state, and national actors to focus on the issue at hand, for citizen observers to network and inspire one another, and for media - both national and local - to provide the correct level of coverage to perhaps the single largest existential crisis of our times.
Global solutions on climate are contingent on US action. US climate action relies on bold leadership at the state level, and Minnesota sits within the most climate polluting region in the US. It's our responsibility to step up. I have been saying it for years, and genuinely believe that our state must be a beacon for climate leadership in the Midwest. As an architect of Minnesota's Next Generation Energy Act while I was in the Senate in 2007, I watched climate issues overcome partisanship and saw bold science-based targets set, passed, and signed by the Governor. Now we need to follow the science again and set more aggressive climate reduction targets for our state. And more importantly, we must act to meet them. We know how to do this. MCEA is already actively engaging with policy makers and scientists on crafting legislation and strategies. We've done it before. And with your support and action, we can do it again. We must.