Apr 21, 2022
MCEA's Earth Week Field Guide
Warmer weather and longer days are just a couple reasons to get excited around this time of year – add Earth Week to that list! 
We are excited to share several ways you can plug in this year, both virtually and in-person. Scroll down to explore webinars, events, and online actions.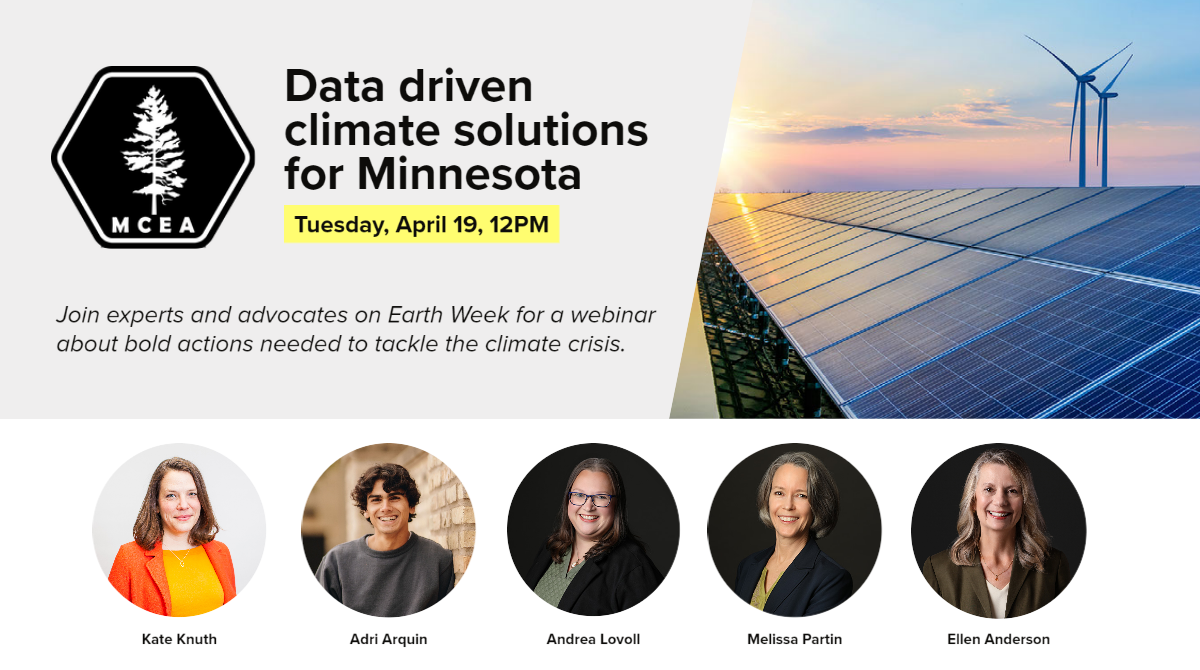 Grab your lunch and join us for our Tuesday webinar!
Join us tomorrow (Tuesday, 4/19) at 12:00pm for a special Earth Week installment on MCEA's 2022 Legislative Webinar series. Hear from MCEA's experts and special guest Dr. Kate Knuth as they discuss why innovative and data-driven solutions are needed to put Minnesota on a successful track to curb the climate crisis. There will be time for questions. Grab your lunch and see you there!
Click here to watch the recording
---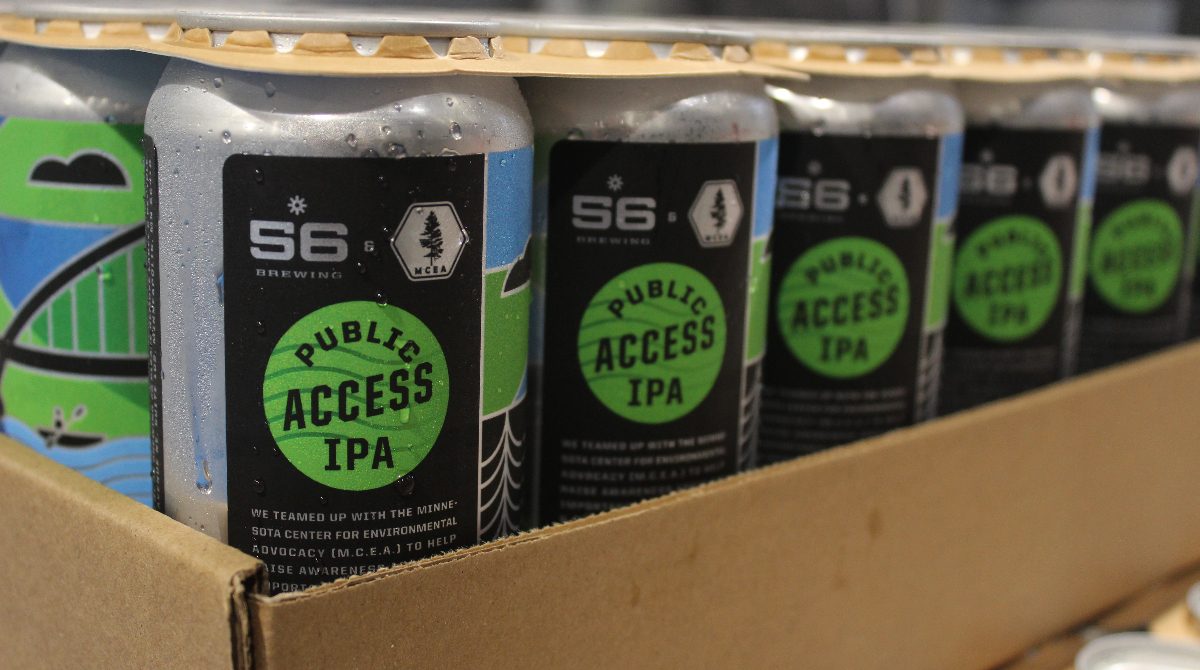 Join us on Earth Day for the launch of Public Access IPA
MCEA has a beer! We are excited to announce the launch of Public Access IPA, a beer made in collaboration with 56 Brewing to celebrate the Mississippi River and highlight the importance of access to clean water statewide. 
Join us on Friday – Earth Day – for the launch event at 56 Brewing. Have a drink and see some friendly MCEA faces. $1 from each 4-pack of Public Access IPA will be donated to our work at MCEA.
---

One of the easiest ways to raise your voice on Earth Week is to complete a few of our online actions. These pre-filled (but customizable) messages will get sent to your elected officials on key environmental issues. 
From asking Gov. Walz to ensure Minnesota's climate plan meets the challenge, to pushing elected officials at the State Capitol to reject bad policy that would undermine bedrock environmental law, we need your help!  Click the links below to take action. It only takes a couple minutes!
#1: Tell Gov. Walz what needs to be included in Minnesota's climate action plan
The challenge of climate change demands bold solutions. Take this action to make sure the Governor creates a plan grounded in data-driven and equitable climate solutions.
#2: Stand up for the Minnesota Environmental Rights Act
The Minnesota Senate is considering a bad policy bill that undermines Minnesotans' right to file lawsuits to protect Minnesota's clean water, air, land, and other natural resources from pollution. Take action now to tell your elected officials to reject this bad policy.
#3: Urge your elected officials to act on toxic PFAS
Minnesota has a PFAS problem. Tell your legislator to act on current legislation to get these toxic "forever chemicals" out of our state.
---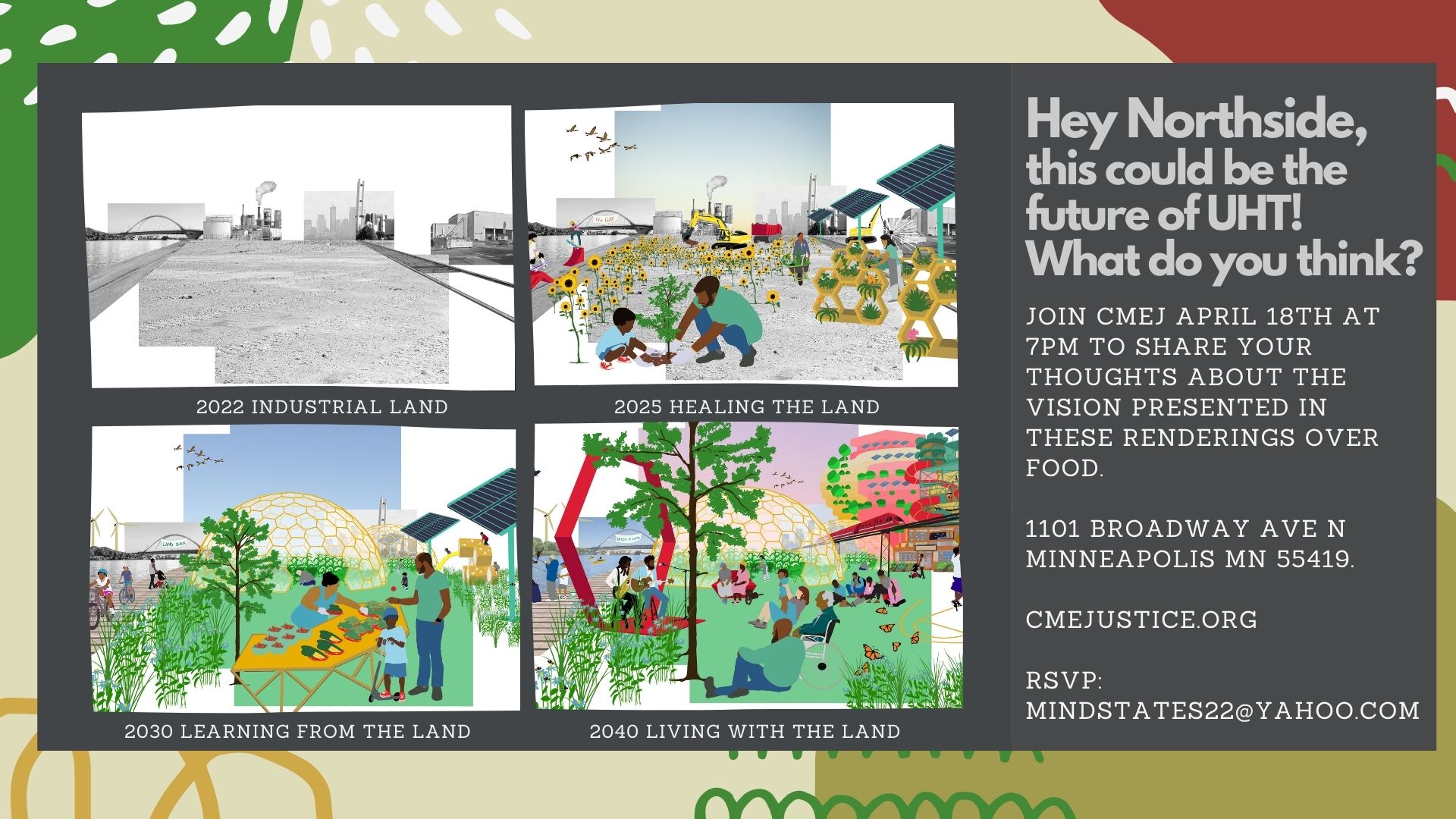 Join CMEJ as they unveil an alternative vision for the Upper Harbor Terminal
Community Members for Environmental Justice (CMEJ) has helped create some big changes this year – including the closure of the polluting Northern Metal facility in North Minneapolis. Join them Monday evening to celebrate those wins and hear from a community panel about CMEJ's alternate vision for the Upper Harbor Terminal site. 
CMEJ and MCEA have been partnering in the courts and through public pressure to push the City of Minneapolis to rethink its proposed redevelopment of Upper Harbor Terminal. The way this 40-acre stretch of public owned riverfront in North Minneapolis is redeveloped will have a big impact on the future of the Northside. Community members have serious concerns about the potential environmental impacts and displacement that could occur from the City's current plan. CMEJ has created renderings of an alternative vision for Upper Harbor Terminal that highlight priorities for the community and underscores the potential that could be unlocked if the City centers community voices in this "once in a generation" investment in the community.
CMEJ will host a panel discussion this Monday evening - April 18 - at the Episcopal Church in Minnesota (ECMN) located at 1101 W Broadway Ave, Minneapolis, MN 55411. Folks will start gathering at 7:00pm to share a meal. The panel discussion will begin around 7:30pm.
We hope to see you there!
---
MCEA at Iron Range Earth Fest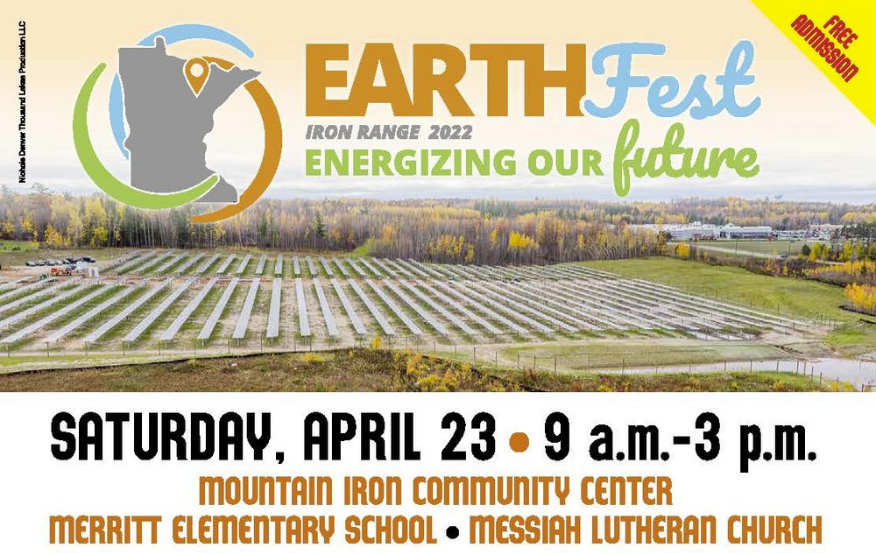 MCEA is proud to be sponsoring the Iron Range Earth Fest this year. Ever since we opened up a Duluth office two years ago, we've been looking forward to attending this great event in person. Please join us! Local MCEA'ers JT Haines and Abby Rogerson will be present and we'd love to see you there.
Event details: The event will take place from 9AM-3PM on Saturday, April 23, at the Mt. Iron Community Center (and Merritt Elementary and Messiah Lutheran Church) on Highway 169 in Mt. Iron. The theme is "Energizing Our Future", and there will be music, local food, and presentations on native nations' leadership in renewables from Robert Blake, Solar Bear, and opportunities in e-waste recycling from Dr. Roopali Phadke, Macalester College.
Invite a friend and come see us at the MCEA booth! We'd love to chat with you about MCEA's local work and opportunities to get involved, learn about your priorities for northeastern Minnesota, or just say hello.
For more information, visit https://www.irpsmn.org/earthfest. If you want to connect in advance, or if you have any questions, please feel free to let us know. Thanks, and see you April 23!
---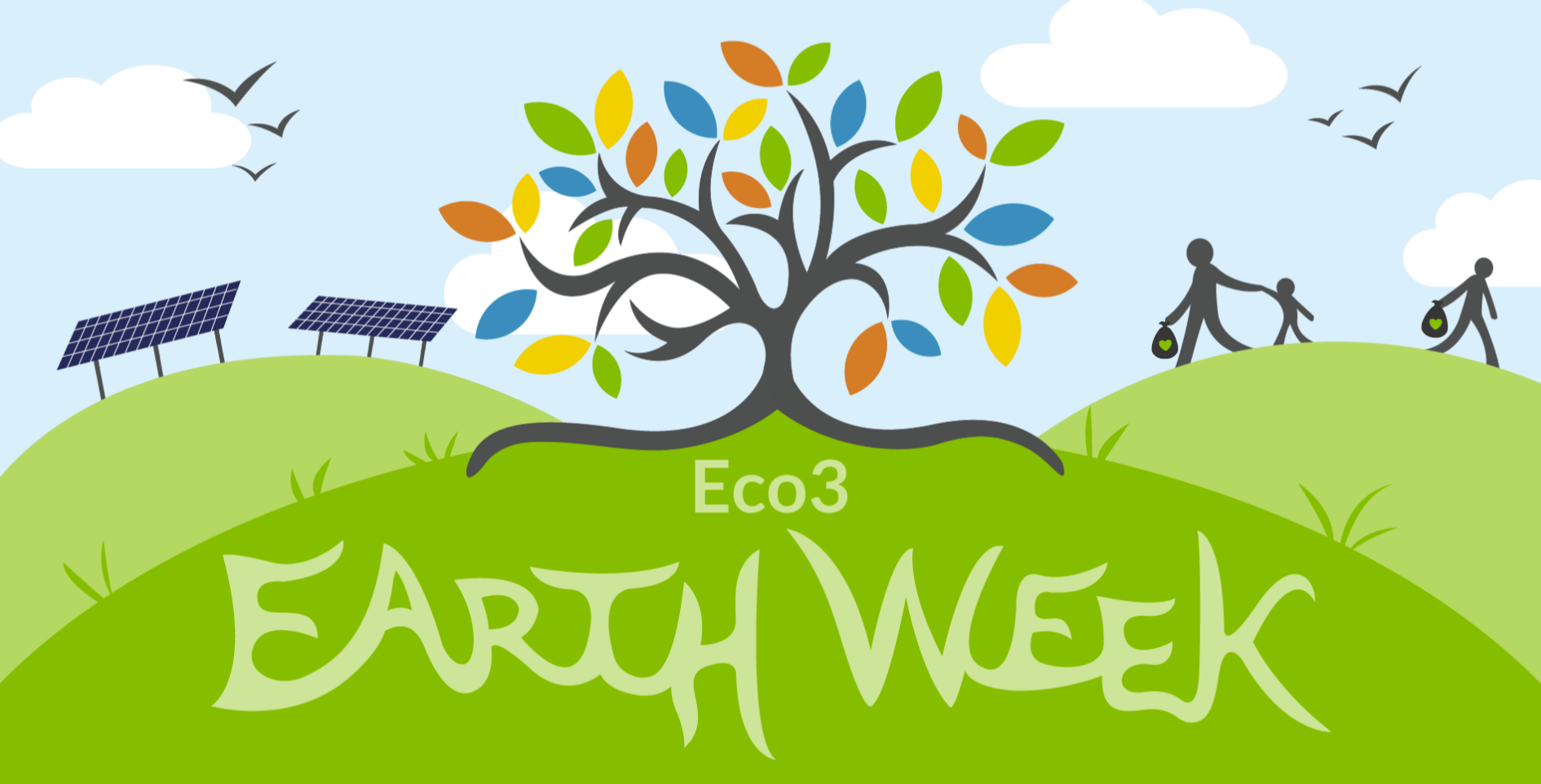 A week of Earth activities with Ecolibrium3
Ecolirium3 has a full week of Earth Week goodness. From an Art Walk & Eco Talk, to the biannual Solar Panel Tilt, webinars, a Spring clean-up, and more! We are excited to be a sponsor of Eco3's activities this year. Click here to learn explore the events — happening Tuesday, April 19 to Saturday, April 23!
Click here to explore Eco3's Earth Week Schedule