Jan 12, 2022
January 2022 MCEA Newsletter

In this edition of MCEA's Environmental Monitor:
Event: Groove on from PolyMet at the MN Capitol Jan 25th
We're back at the US Supreme Court
We are hiring!
MCEA and partners appeal PolyMet air permit decision
Event: Rochester is Ready: A community climate convo
MCEA welcomes new staff to our team
---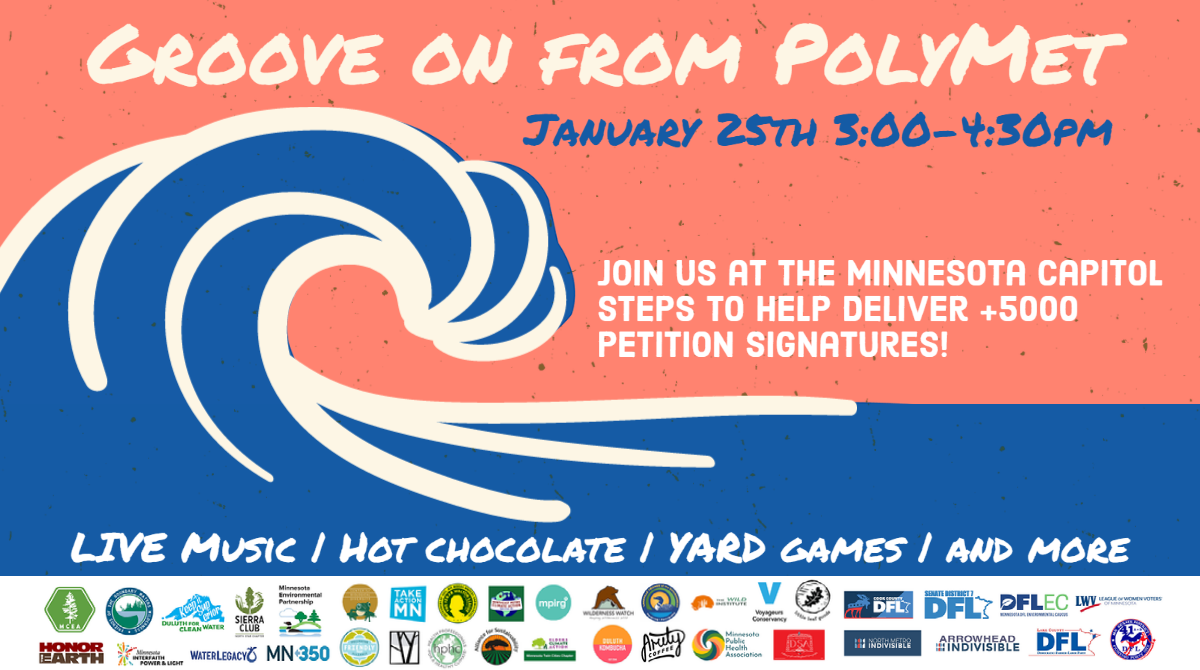 Join us Tuesday at the Capitol 
Are you ready to Groove on from PolyMet? Help MCEA and partner organizations deliver over 5,000 signatures to the Governor's office this week!
On Tuesday, Jan. 25th, at 3pm we'll be gathering at the Capitol steps for the delivery of our Move on from PolyMet letter, signed by thousands across the state. The campaign has been a huge success, galvanizing folks around the idea that Minnesota deserves better than what PolyMet's flawed proposal offers. Join us to hear from powerful advocates for clean water, and for live music, hot cocoa and more! Details below. We hope to see you there!
WHERE
The front steps of the Minnesota State Capitol
75 Rev. Dr. Martin Luther King Jr. Boulevard, St. Paul, MN 55155
WHEN
3:00 to 4:30 pm -- Tuesday, Jan. 25. Speakers from 3:00 - 3:30, delivery of petition at approximately 3:30, music and games afterward.
WHO
Speakers:
Aaron Klemz, Chief Strategy Officer for the MN Center for Environmental Advocacy 
Senator Jen McEwen, Duluth State Senator 
Aaron Roessler, Duluth DFL Chair
Mike Mayou, Duluth City Council Member 
Adeline Wright, Duluth-based business Owner of Adeline Inc. 
Representative Kelly Morrison, MD, Health Professionals for A Healthy Climate 
Live music: Surge and the Swell, an Americana/Indie/Folk band based in the Twin Cities  
RSVP
(Knowing # of attendees is helpful for our planning): https://forms.gle/p3CUbzKy7khK7AhB8
If you're coming from the North, connect with others here.
With well over 5,000 signatures, it's time to take our message directly to Governor Walz and ask him to Move on from PolyMet and create a safer, sustainable and better job-creation plan for Northeastern, MN.
Note: We are holding this event outdoors to make it as safe as possible amid the pandemic and will also encourage attendants to wear masks and maintain safe social distance to the extent possible. If you are comfortable attending under the circumstances, we hope to see you there! 
---
MCEA is back at the US Supreme Court
MCEA, along with several others, is party to a brief filed with the U.S. Supreme Court last week in defense of the federal government's authority and duty to regulate greenhouse gas (GHG) emissions.
The case, West Virginia v. EPA, was brought by several pro-coal states and organizations and seeks to stymie any future federal attempts to effectively reduce GHG emissions from existing fossil fuel electricity generators under the Clean Air Act.
Federal regulation of GHGs under the Clean Air Act has been on a roller coaster since the late 1990s with changing administrations reversing itself multiple times and the Supreme Court weighing in with several important cases.  
This case stems from the Trump EPA decision to repeal Obama's "Clean Power Plan" and replace it with a new Affordable Clean Energy (ACE) plan (which many analysts said would actually increase emissions from these existing sources.) The Biden Administration has already withdrawn the ACE rule and indicated plans to replace it. But in a foreboding decision, the Supreme Court granted the pro-coal coalition's request to review the case even though the rule has been withdrawn and the case arguably moot.  There is concern that conservative justices would like to use this case to further develop the "major questions" doctrine, which has been used to strike down federal agency rules that have potentially wide-ranging impacts on the economy. The case will be argued in February with a decision expected this spring/summer. We'll keep you in the loop as things develop.
---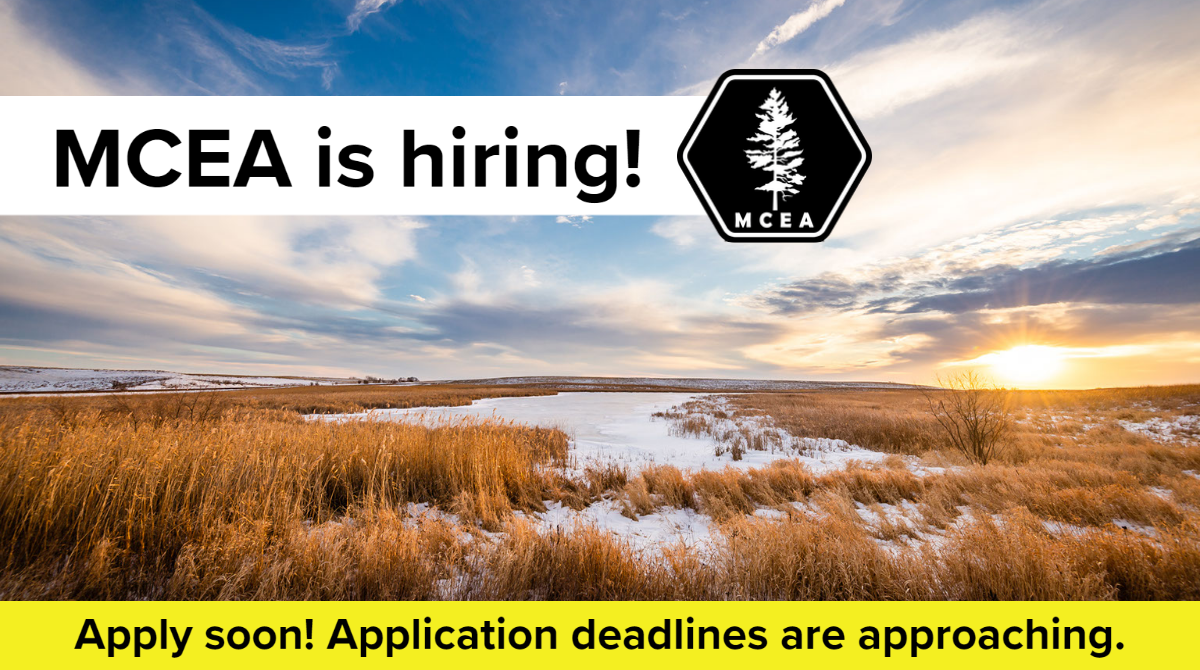 MCEA is hiring!
We have several exciting opportunities to join our team, but the deadline to apply is approaching! Help us spread the word by sharing with your network via email, on Facebook, Twitter, or LinkedIn. 
MCEA seeks a part-time intern to support our work at the Legislature during the 2022 session. This is an excellent opportunity for someone looking to break into policy work and collaborate with our top-notch advocacy team. Review of applicants will begin on Monday, so apply ASAP.
Communications and Online Giving Associate
We are growing our communications team! The work of our comms team is foundational to our organization. It's how you and the media stay up-to-speed on our work. This is an entry-level opportunity for a candidate to support our team. Apply soon, applications are due  Jan. 25th!
Each year, MCEA hires a recent law school graduate to work closely with our team of over a dozen attorneys. We are one of the most high-impact legal environmental advocacy organizations in the country. This is an excellent opportunity for someone looking for a career in environmental law to learn from some of the best. Applications are due February 3rd.  
---
MCEA and allies appeal PolyMet air permit decision
On Wednesday, MCEA, Friends of the Boundary Waters, and Sierra Club appealed the Minnesota Pollution Control Agency's (MPCA) decision to reissue PolyMet's air pollution permit without investigating evidence showing that the mining company intends to operate a much larger operation than allowed under the issued permit. 
From our Northeast Minnesota Director, JT Haines: 
"Yet again, the MPCA has failed to look at whether PolyMet is making promises it does not intend to keep. Just like the rejected Pebble Mine in Alaska, PolyMet has been telling the MPCA one thing, while signaling to investors that its true plan is to expand operations beyond permitted levels. Rather than continue to defend a permit that doesn't require the use of best available technology, MPCA should actually investigate PolyMet's real plans."  
MCEA is taking on PolyMet on all fronts, from public awareness campaigns, like Move on from PolyMet, to the courts. We are fighting hard to ensure that the dangers of this proposal are understood by decision makers and the public. 2022 is already gearing up to be one of the busiest ever in this fight. Donate today to support our fight for clean water. 
---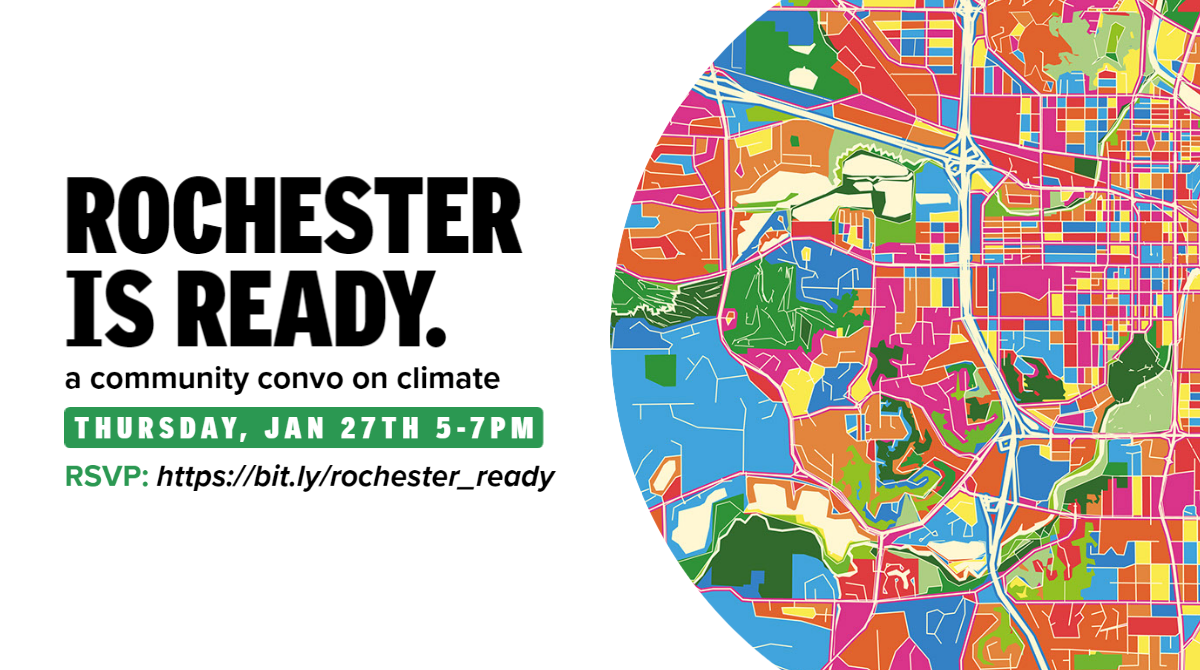 Join us for a community panel on climate action
The climate crisis is not on the horizon, it's here. To avoid the worst impacts of climate change our elected officials need to take meaningful action. 
We are just a couple weeks away from the start of Minnesota's 2022 Legislative session, and MCEA is bringing this urgent message to leaders across the state. We're partnering with concerned local community members to raise awareness of climate challenges and the need for action – join us on Jan. 27th to help show that Rochester is ready for climate solutions. 
This panel will include advocates from the Rochester-area, but you don't need to be a Rochester resident to join. The need to act on climate at the Legislature is a state-wide issue – so all are welcome!
---
MCEA welcomes new staff
Over the past few years, MCEA's team has seen some major growth. This growth, fueled by supporters like you, has allowed us to take on more projects than ever before. 
We're excited to introduce you to two new members of our team. Learn a bit about them below!
Melissa Partin - Climate Policy Analyst
"It's always been important to me that the work I do has the potential to make a broad positive impact on society.  For many years I satisfied that itch conducting research to improve public health and optimize healthcare services, but that work began to feel relatively insignificant as I became more aware of the threats imposed by climate change. So a couple of years ago, pulled by a drive to do more to combat the climate crisis, I decided to back away from my health research roles in order to apply my skills and experience to advancing ambitious climate policy. I'm thrilled to join the talented and rigorous staff at MCEA in that effort."
Abby Rogerson - Northeast Minnesota Program Associate
"While in college, I was gifted a copy of A Sand County Almanac, and I proceeded to highlight half the book--Aldo Leopold's land ethic resonated with me. Inspired by Leopold's legacy in my own backyard, I spent the next summer restoring oak savannah and learning about the concepts of restoration ecology he pioneered. Since that summer trudging through wet prairie grasses, getting tangled in patches of multiflora rose, I've lost a bit of environmental romanticism, but none of my passion. At MCEA, I strive to find creative ways to put my passion into action, working towards a future in which 'we see land as community to which we belong.'"