Nov 30, 2021
November 2021 MCEA newsletter

In this edition of MCEA's Environmental Monitor:
- Record breaking Give to the Max Day!
- Recap on COP26 - links to articles and recorded events
- MCEA Legal Fellowship honors John W. Pegg
- MCEA wraps up 2021 CLE series - see you next year!
- Thousands sign on to call for Gov. Walz to move on from PolyMet
---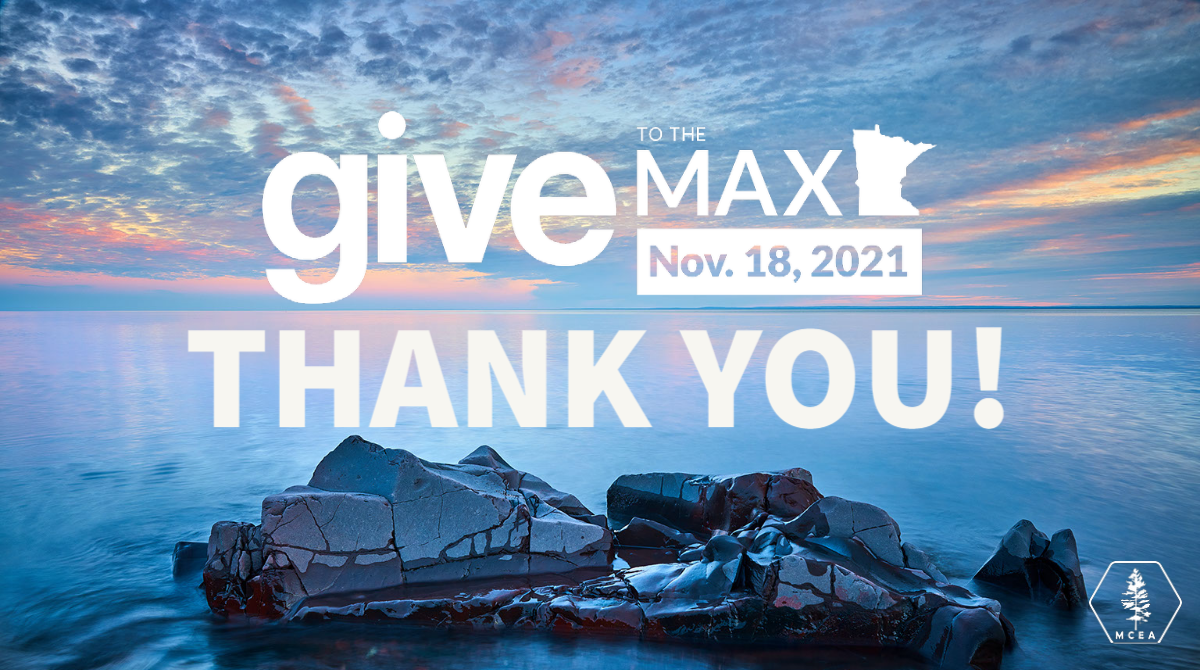 A record breaking Give to the Max Day for MCEA!
On behalf of our team, a BIG thank you for a successful #GTMD21. Thanks to the generosity of over 400 Minnesotans from across the state, we blasted past our goal of $100,000 and, as of the writing of this email, have raised $128,062 in support of the fight for clean water, climate action, and environmental justice!
We've never raised this much on Give to the Max Day before! With so much on the line, from dangerous copper-sulfide mine proposals in Northeast Minnesota, to a "code red" on climate, your generous support has never been more critical.
Thank you! And special thanks to matching grant support from David Dayton, Weston Hoard, Rebecca and Shawn Otto, and Timothy B. Nelson who doubled the impact of every donation made. 
---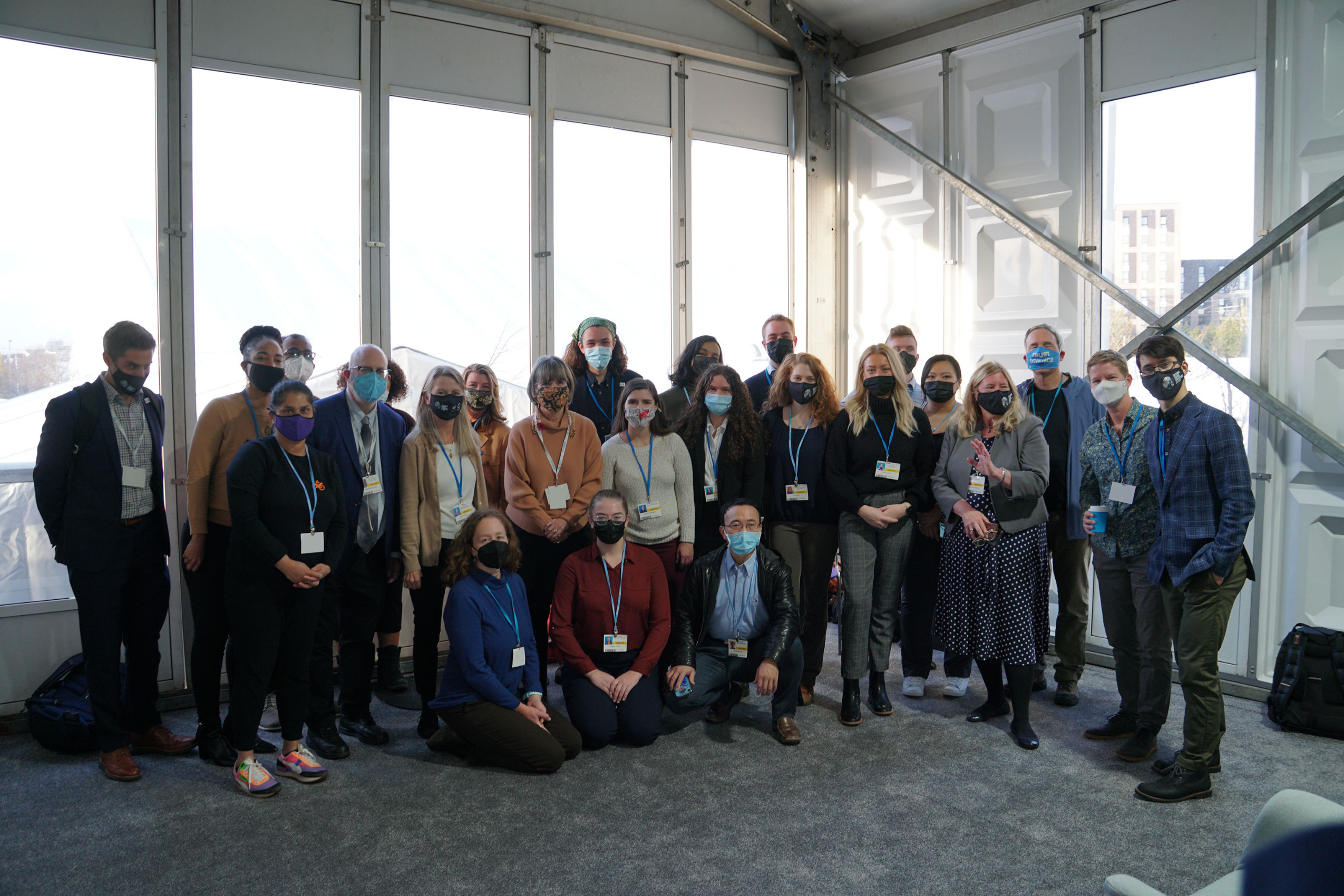 Get up to speed on two weeks at COP26
COP26 was an opportunity for Minnesotans to bring the message of the heartland of America to the world conversation on climate. Over the course of two weeks, four MCEA delegates, alongside over 60 other delegates from Minnesota including Rep. Patty Acomb, Rep. Frank Hornstein, delegates from Climate Generation, Interfaith Power & Light, and others, connected and learned from folks around the world about one of the most pressing issues of our time: climate change. The core message of MCEA's delegation was highlighting the role the Midwest must play in order for the US to meet its climate targets, and the opportunity Minnesota must seize to be a beacon for climate action in our region.
Whether you've followed our delegation's time at COP26 closely, or you've missed some of what happened, we've got you covered. Below are a series of articles, links to recordings of panels, and photos from the summit. COP26 brought a laser focus to climate change in the decision rooms, pressrooms, and living rooms of people around the world; now it is time we translate that focus into action.
RECORDINGS OF EVENTS
Panel discussion: Designing an Equitable Carbon-free Future in Minnesota & the Midwest
Panel discussion: Indigenous-led Resistance on Minnesota's Line 3 Pipeline
Press conference: Minnesota Elected Officials and Policy Experts on COP26 and Need for Minnesota to Lead on Climate Action
 
ARTICLES TO CHECK OUT
MPR, Minnesotans return from climate summit energized despite its shortcomings
KARE11, Panel on Enbridge Line 3 pipeline hosted by Minnesotans at UN Climate Change Conference
Sahan Journal, United Nations climate conference draws Minnesotans of color
Star Tribune, Minnesotans join push for change at U.N. climate summit
MCEA,  Climate Director Ellen Anderson reflecting on the outcome of COP26 and what needs to happen next
MCEA, Project Coordinator Katie Cashman on the dire need for action at COP26
MCEA, Week 2 COP26 Update
MCEA, North Minneapolis renewable energy developer and MCEA delegate Jamez Staples on his experience in week one of COP26
---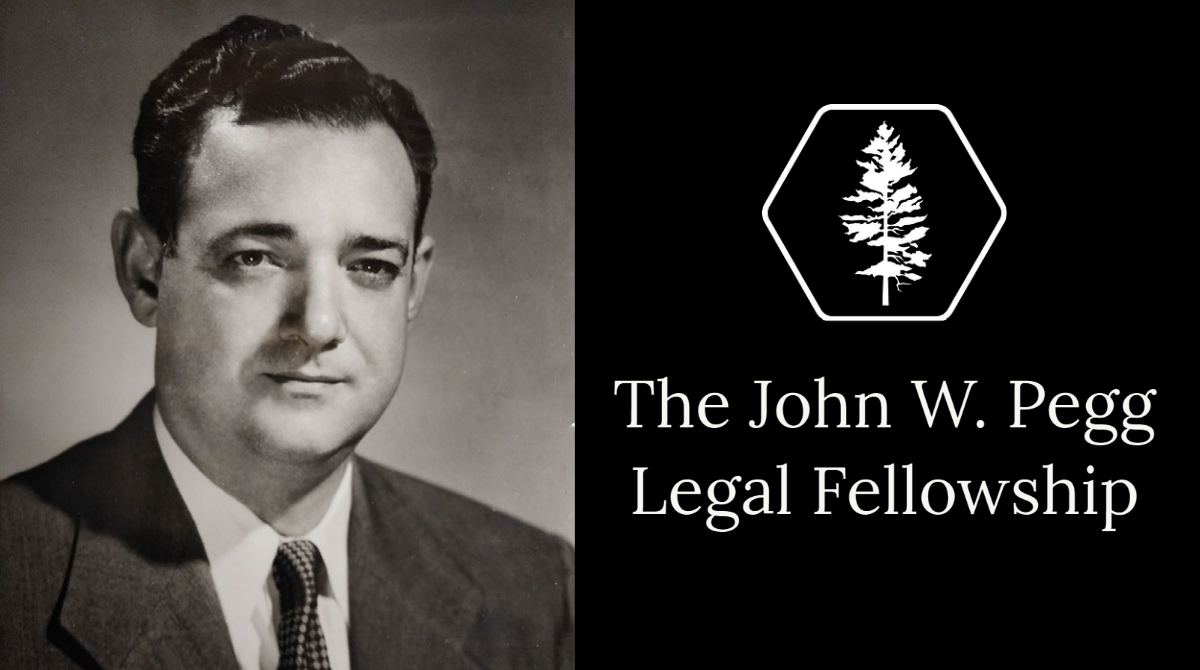 MCEA John W. Pegg Legal Fellowship
Each year, MCEA hires a recent law school graduate to join our team for one year as a Legal Fellow. The position is an opportunity for a new lawyer — who shares our passion and vision for law as a tool for positive transformative change for our environment and people — to work alongside our team of seasoned attorneys on projects ranging from PolyMet to Northern Metals. We are honored to announce the naming of our Legal Fellowship after John W. Pegg, through the generous contribution of his son John Clark Pegg, in his memory. Equally exciting, we also want to take this opportunity to welcome our first John W. Pegg Legal Fellow, Michael Damasco. We invite you to click here to learn a bit about Michael, and then read this article, penned by John Clark Pegg, about his father and the legacy he hopes the John W. Pegg Legal Fellowship will help him leave behind.
"I am grateful for the outstanding work done by the Minnesota Center for Environmental Advocacy over the years in the courts, in the legislature, and in our communities. I am grateful because I have a profound respect for the law as the foundation for a democratic society and I have had a life-long commitment to social justice, based on the core values that my father taught me," John Clark Pegg, Minneapolis, MN
---

MCEA's brand-new CLE series, the Green Beagle, wraps up its first year
This summer, MCEA Chief Legal Kevin Reuther brought the idea to our staff to hold a Continuing Legal Education (CLE) series on environmental law. If you aren't familiar, lawyers are required to obtain a certain amount of CLE credits each year to maintain their license. With a staff of over a dozen attorneys and legal experts, we thought the series would be a great opportunity for the public (both lawyers and non-lawyers) to take a deeper dive into some of Minnesota's most pressing environmental law topics. Over the next several months, we held three CLE's, culminating this month in a half-day mini-symposium on the Minnesota Environmental Rights Act, one of Minnesota's foundational environmental laws. 
We were blown away by the response to the new CLE series. Nearly 200 people participated in our final symposium on the Minnesota Environmental Rights Act! We look forward to rolling out our next installment in 2022. Until then, you can watch recordings of each session by clicking here.

Thank you to our sponsors, including Peter Bachman and Janet Rice, Ron Sternal and Nancy Gibson, Compass Capital, Cassidy and Andrew Steiner, Martha Struthers Farley and Donald C. Farley, Jr. Family Foundation, Bruce and Julie Steiner, Zelle LLP Minneapolis Office, and Schwebel Goetz & Sieben. Click here to view all our sponsors!
---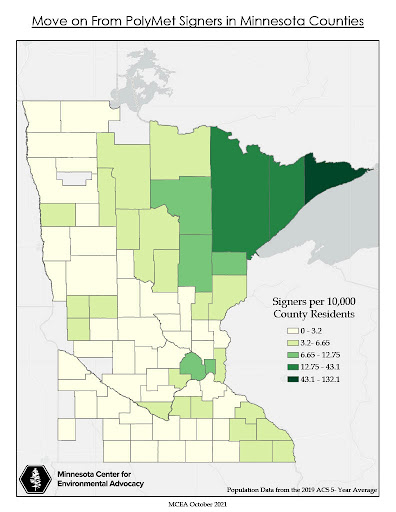 Thousands sign on to call for Gov. Walz to move on from PolyMet
People across the state have joined the cause and signed the letter to Governor Walz asking him to Move on from PolyMet and propose better and safer economic development ideas for northeastern Minnesota. Thousands of Minnesotans have signed in 78 counties, from Caledonia to Cloquet, from Finland to Finlayson, from Grand Portage to Grand Rapids, in Elk River, Deer River, Knife River, Willow River, and Thief River Falls. Support is strongest in northeastern Minnesota!
We're building a mighty movement, and we want you to be part of it. If you haven't yet, please sign on to the letter to Governor Walz today.