May 23, 2023
Minnesota legislature achieves historic wins for climate and environment in 2023
Here's how MCEA helped get it done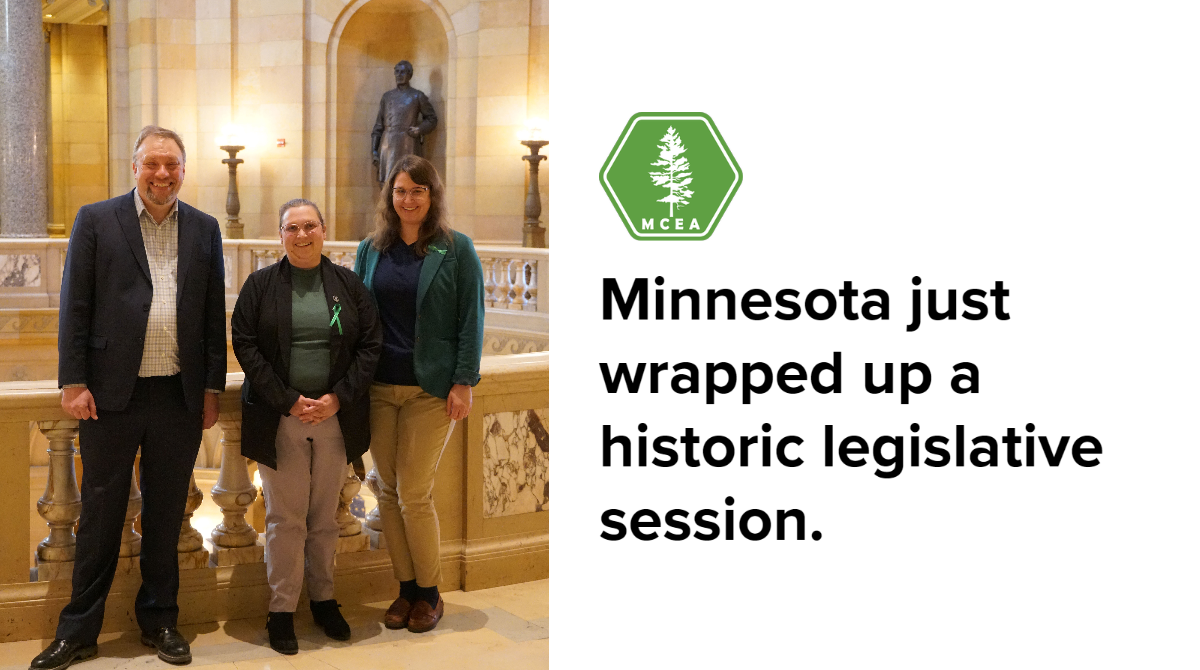 ---
Photo: Leading members of MCEA's legislative team at the MN State Capitol this session. From left to right: Chief Strategy Officer, Aaron Klemz; Legislative Director, Andrea Lovoll; Policy Advocate, Dr. Jen Fuller 
---
We did it! The 2023 Minnesota legislative session is over and it was one for the history books. Over the past 6 months, the Legislature accomplished more for our environment than it has in a generation. As our Legislative Director Andrea Lovoll puts it, "This was a once in a lifetime session." 
With the climate crisis accelerating, growing threats to air and water, and the impacts of pollution continuing to fall hardest on communities of color and low-income earners, there was a lot of urgent work to do. There is plenty more ahead, too, but Minnesota passed groundbreaking legislation on key issues this session that will serve as examples across the nation of how to meet the environmental challenges of this moment. 
MCEA's unmatched expertise and experience across environmental issues, legislative prowess, and deep legal bench played a pivotal role.
In no particular order, here are the top environmental wins we helped achieve together. Keep reading below to learn more about each win.
Landmark legislation banning toxic PFAS "forever chemicals" 
Environmental justice protections for overburdened communities 
Updated statewide climate pollution reduction targets aligned with leading science  
Unprecedented funding boost for climate and environment 
Protections for the largest produce farming operation in the metro-area 
Wins targeting fish kills and drainage projects 
Protections for dedicated funds for environmental and natural resources projects
100 percent clean energy legislation 
---