Lutsen Mountain ski resort in Northeastern Minnesota has proposed an expansion of its winter recreation area that, if approved, would convert nearly 500 acres of the Superior National Forest into new ski runs and chairlifts. 
While it may sound exciting to some to think about a bigger ski park in Minnesota, it would come at significant cost to local people, public lands, and sacred landscapes. 
The expansion is proposed on federal lands within the 1854 Treaty territory that are home to old-growth, undisturbed forests populated by northern white cedar stands over 140 years old as well as other unique and sensitive plant life and water sources. Whatever happens here needs to be done in meaningful consultation with the affected tribes and include robust consideration of the impacts the expansion would have on rare ecosystems of deep economic, cultural and ecological significance. 
Neither has happened yet, which is why MCEA, along with hundreds of others, filed comments about the proposal with the US Forest Service on Dec. 9, 2021. Our comment urges the federal agency to require Lutsen Mountain to fix the problems with the flawed draft environmental impact statement (EIS) before deciding whether to issue a special use permit. As it stands, our position is that the application should be denied. Losing sensitive public lands is a one-time decision with long-lasting impacts, and projects that impact treaty territory require meaningful government-to-government consultation with affected tribes. The Forest Service has yet to adequately consider these issues.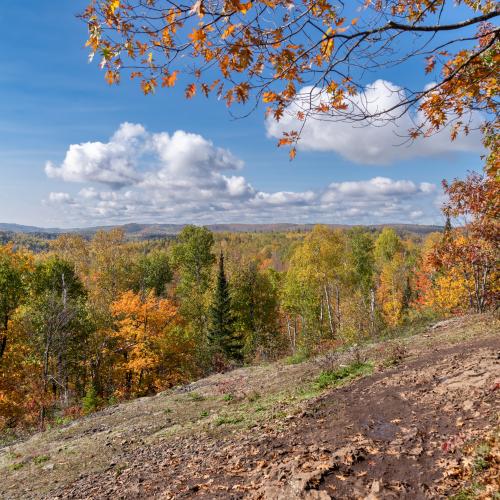 The draft EIS for the proposed expansion onto Superior National Forest and treaty lands fails to prioritize the rights of Tribes, overlooks water-quality impacts, and unreasonably concludes that the loss of unique forests would be reversible.
From MCEA's December 9, 2021, public comment (signed also by the Minnesota Izaak Walton League, Save our Sky Blue Waters, and the Save Lake Superior Association)
KEY EVENTS
December 2021
MCEA and over 550 other organizations and individuals file public comments on the Draft EIS.
September 10, 2021
Forest Service releases Draft EIS for public comment.
December 2017
Lutsen Mountain Corporation applies for a Special Use Permit to expand its ski resort onto 500 acres of adjacent Superior National Forest land.
2010
University of Minnesota study shows that the ski resort is a large contributor to the nearby Poplar River's sediment problem
2004
The Minnesota Pollution Control Agency lists the Poplar River, which runs through the center of the Lutsen resort, as impaired for high levels of turbidity from excessive sediment in the water.
1948
Lutsen ski hill first opens. In 1964, the first chair lift is installed.
1909
United States government establishes the Superior National Forest, to be managed by the U.S. Forest Service on behalf of the public.
1854
Ojibwe cede lands in northeastern Minnesota but retain rights to hunt, fish, and gather. Tribal citizens continue to exercise those rights today.