Lutsen Mountain ski resort in Northeastern Minnesota proposed an expansion of its winter recreation area that, if approved, would convert nearly 500 acres of the Superior National Forest into new ski runs and chairlifts. While it may sound exciting to some to think about a bigger ski park in Minnesota, it would come at significant cost to local people, public lands, and sacred landscapes. 
The expansion is proposed on federal lands within the 1854 Treaty territory that are home to old-growth, undisturbed forests populated by northern white cedar stands over 140 years old as well as other unique and sensitive plant life and water sources. Expanding into these lands would impact rare ecosystems of deep economic, cultural and ecological significance, as well as important treaty rights and obligations. 
This is why MCEA, along with hundreds of others, filed comments about the proposal with the US Forest Service on Dec. 9, 2021 urging the agency not to grant the Special Use Permit. With the support of valued local partners, we emphasized that the process must recognize and uphold treaty rights, account for impacts to water quality, include measures to reduce those impacts, and consider that clear-cutting 140-year-old old growth forest could be an irreversible result of the development. Our comment emphasized that this would be a one shot deal, because this precious ecosystem is difficult – if not impossible – to regenerate.
In May 2023, the Grand Portage Band of Lake Superior Chippewa, Fond du Lac Band of Lake Superior Chippewa, and the Bois Forte Band of Chippewa entered into an important memorandum of understanding with the US Forest Service that implements co-stewardship of treaty resources across the Superior National Forest. In July, Lutsen acknowledged an "overdue shift" at the Forest Service in honoring tribal rights in our region, and requested that the agency hold off on making a decision on the permit. 
In August 2023, the Forest Service officially denied Lutsen's application for the Special Use Permit. The Forest Service found that Lutsen's proposal would unacceptably reduce the amount of, and restrict access to, resources protected by the 1854 Treaty; cause potentially irreversible loss of mature northern white cedar and sugar maple forests; harm water quality in areas downstream of the development; and displace hikers and backcountry skiers.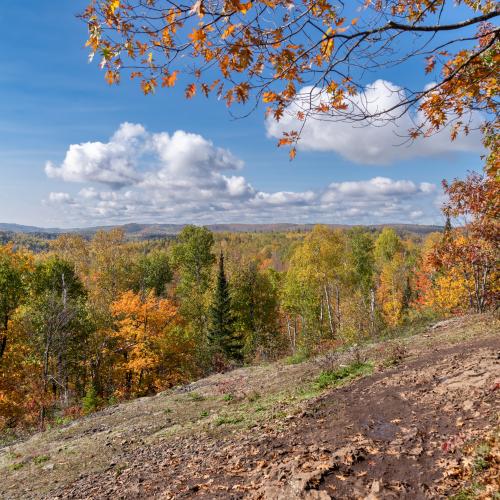 The draft EIS for the proposed expansion onto Superior National Forest and treaty lands fails to prioritize the rights of Tribes, overlooks water-quality impacts, and unreasonably concludes that the loss of unique forests would be reversible.
From MCEA's December 9, 2021, public comment (signed also by the Minnesota Izaak Walton League, Save our Sky Blue Waters, and the Save Lake Superior Association)
KEY EVENTS
August 2023
Forest Service denies Special Use Permit.
The U.S. Forest Service issues a Final EIS and Draft Record of Decision, proposing to deny Lutsen's permit application due to its finding that the negative impacts of the expansion proposal outweigh the benefits. Parties will have 45 days to object to the decision. If no objections are filed, the decision will become final. Lutsen indicates it may submit a revised proposal in the future. 
July 2023
Proposal is Paused
Lutsen requests the U.S. Forest Service defer its decision until the company can modify the expansion proposal to align with a Memorandum of Understanding signed between the Grand Portage, Fond du Lac, and Bois Forte Chippewa Bands and Forest Service in May 2023. The MOU provides for co-stewardship of treaty resources across the Superior National Forest. The Forest Service will not make a decision on whether or not to grant the permit until Lutsen modifies or withdraws its application.
December 2021
MCEA and over 550 other organizations and individuals file public comments on the Draft EIS.
September 10, 2021
Forest Service releases Draft EIS for public comment.
December 2017
Lutsen Mountain Corporation applies for a Special Use Permit to expand its ski resort onto 500 acres of adjacent Superior National Forest land.
2010
University of Minnesota study shows that the ski resort is a large contributor to the nearby Poplar River's sediment problem
2004
The Minnesota Pollution Control Agency lists the Poplar River, which runs through the center of the Lutsen resort, as impaired for high levels of turbidity from excessive sediment in the water.
1948
Lutsen ski hill first opens. In 1964, the first chair lift is installed.
1909
United States government establishes the Superior National Forest, to be managed by the U.S. Forest Service on behalf of the public.
1854
Ojibwe cede lands in northeastern Minnesota but retain rights to hunt, fish, and gather. Tribal citizens continue to exercise those rights today.