Oct 27, 2022
Webinar series: Mining the Climate Crisis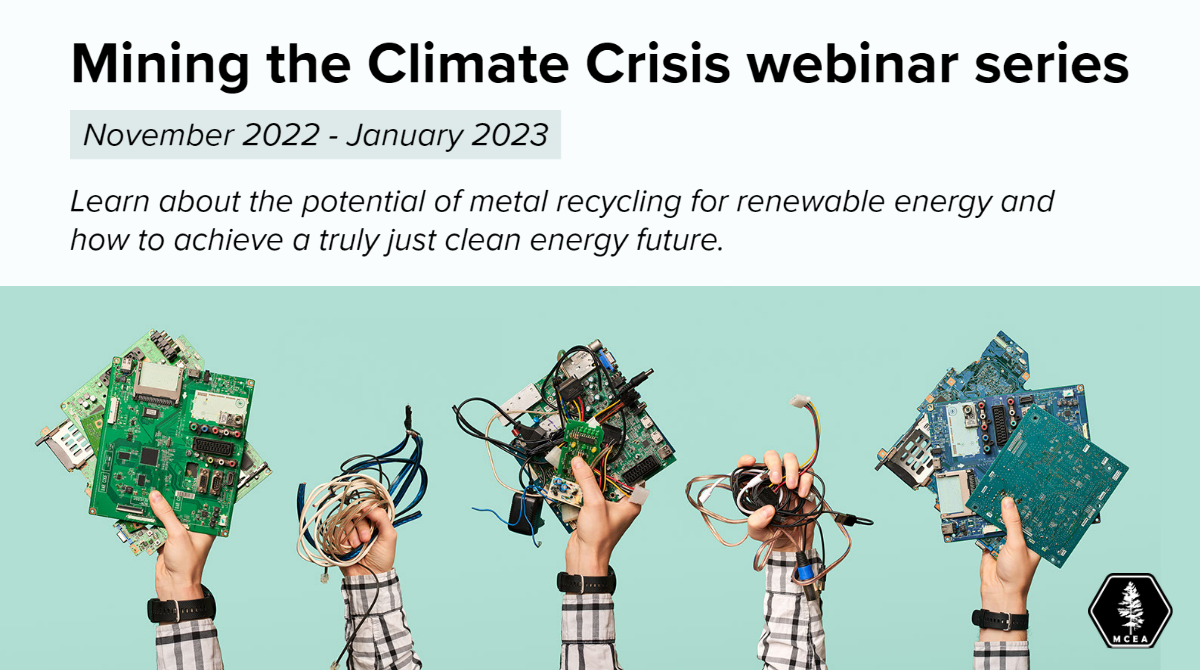 Watch recordings of our 2022-2023 webinar series for timely and engaging discussions on the global and local dynamics of metal recycling, untapped opportunities to use recycled metals for renewable energy, and perspectives on how to achieve a truly just transition to clean energy. 
---
Webinar Finale: Climate Action Beyond Extraction Roundtable
Date: Tuesday, January 24, 2023, 12:00 – 1:00pm 
Join us for a roundtable-style webinar with panelists who will discuss their visions for a clean energy future, particularly in the context of increasing pressure to accept the myth that sulfide mining is the only viable means to source the "critical minerals" used for renewable energy. Creative, big-picture solutions are needed to measure up to the challenges posed by climate change – panelists will share their insights into how we can meet the moment.
Meet the panelists: 
Libby Bent, Organizing Committee, Duluth for Clean Water
Dr. Jennifer Dunn, Associate Professor of Chemical and Biological Engineering, Northwestern University
Winona LaDuke, Executive Director, Honor the Earth
Click here to watch the recording of webinar #3
---
Webinar #2: Local experts on better metal reuse, recycling, and recovery in Minnesota
Date: Tuesday, December 13, 12:00 – 1:00pm 
Recycling and reuse of minerals already aboveground is the quickest and least harmful way to to meet demand for copper, nickel, and other metals used for renewable energy. Learn from local experts representing government, industry, and academia about the state of metal recycling in Minnesota, plus untapped opportunities for sourcing these minerals, besides mining. 
This webinar will include short presentations by each speaker, followed by a Q&A session. Click the links below to learn more about the featured speakers:
Maria Jensen, Environmental Health and Safety Specialist, Repowered
Dr. Roopali Phadke, Professor, Dept of Environmental Studies, Macalester College
Rep. Athena Hollins, State Representative, District 66B
Click here to Watch the recording of Webinar #2
---
Webinar #1: Exploring the world of metal recycling with Adam Minter
Tuesday, November 29, 12:00 – 1:00pm 
Adam Minter is a columnist with Bloomberg Opinion, where he writes about emerging markets, technology, waste, and other topics. From 2002 to 2014, he was based in Shanghai, where he covered the trans-Pacific trade in recycling; he continued that coverage from Kuala Lumpur, where he was based from 2014 until Covid. His first book, "Junkyard Planet: Travels in the Billion Dollar Trash Trade," is an insider's look at the world of globalized recycling. His most recent book, "Secondhand: Travels in the New Global Garage Sale" is a deep dive into the secondhand economy that thrives around the world.
Join us for an interview with Adam; we'll discuss the inner workings of the global metal scrap trade, why the U.S. lags behind other countries in scrap and e-waste recycling, what we can do to improve our efforts, and why it's critical we do.