Aug 09, 2021
A code red for humanity
IPCC report on climate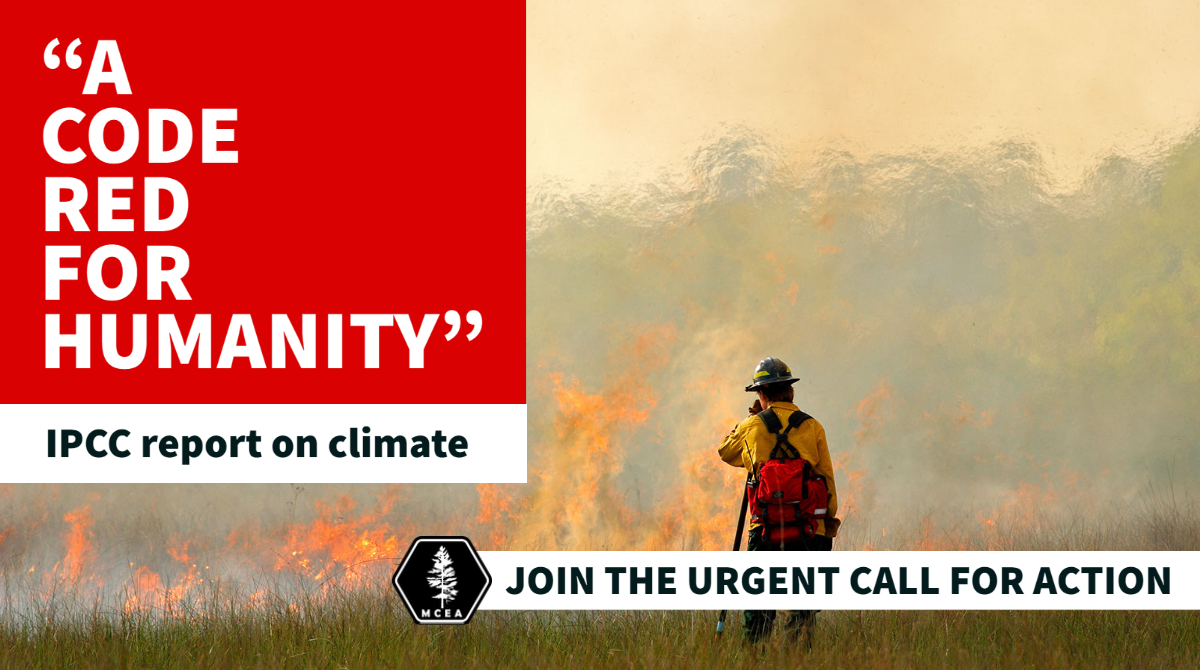 August, 9th, 2021
The gold standard climate report released Monday by the United Nations Intergovernmental Panel on Climate Change (IPCC) put the state of the rapidly accelerating crisis in unflinching terms. Bold and immediate climate action is non negotiable. Dramatic cuts in greenhouse gas emissions must happen to prevent catastrophic climate consequences from upending our lives.
MCEA is on the front lines of this effort, and we need you to join us. Starting today, we will be sending out a sweep of actions you can take to help address the crisis.  Here's the first. 
If you're not familiar with it, the IPCC is the premier group of climate scientists whose findings are endorsed by the world's governments. Its latest report is the most significant and robust review of the science of climate change since its 2013 report.
In other words, what it says matters, and should be heeded. 
The key takeaways: 
The climate crisis is already altering our world in "unprecedented" and in some cases, "irreversible ways." Deadly heat waves, droughts, wildfires, mass flooding and other extreme weather events are all related to climate change.
Events that used to happen once a century will continue to become much more frequent. This writer said it well: "The era of rapid climate change has begun." Anybody whose eyes have watered, or whose nose has smelled the wildfire smoke in the air over Minnesota knows this is true from personal experience. 
Human activity, specifically burning fossil fuels like coal, oil and natural gas, has an "unequivocal" role in the heating planet
"Unless there are immediate, rapid and large-scale reductions in greenhouse gas emissions," staving off the worst impacts of climate change "will be beyond reach." 
The IPCC makes clear that if we cut emissions in half by 2030 and reach net zero emissions by the middle of this century, we can halt and even reverse our heating climate. This means we must dig deep and demand bold, decisive and immediate action by our leaders at all levels -- local, state and federal -- now. 
The full IPCC report can be accessed here. For a summary, check out the following news stories (New York Times and BBC) that MCEA staff found useful. 
It's easy to be overwhelmed in this moment. But we are in this together, and we are not powerless. The best thing to do in response is to organize and work together, and that starts by taking one step at a time. 
Here's one - take this action today to end Minnesota's reliance on the Coal Creek power plant, and look out for more actions related to climate change later this week and next.