Mar 31, 2022
Creative tactics force climate analysis of NTEC fossil fuel plant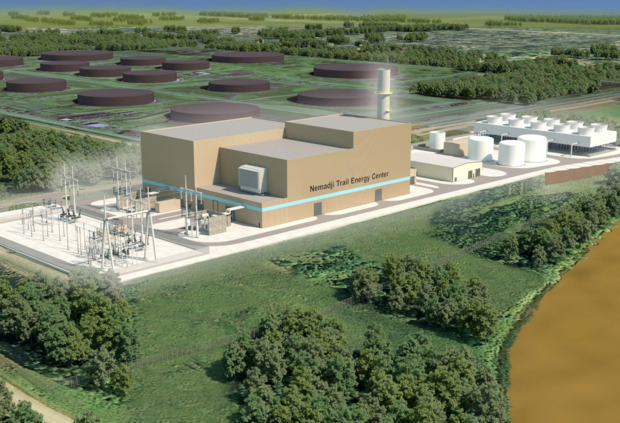 Building new climate polluting fossil fuel power plants is incompatible with the scale and speed of the climate crisis. That has not stopped Minnesota Power from partnering with Dairyland Power, a Wisconsin-based co-op, from  attempting to construct NTEC, a large fossil fuel gas plant that would serve ratepayers in Northeast Minnesota and Wisconsin for decades to come.
We've fought hard in court and through public pressure to stop NTEC, but nothing to date has been able to thwart the plant's momentum. So, last year, MCEA and our allies started looking for creative solutions. When we discovered that the U.S. Department of Agriculture's Rural Utilities Service (RUS) planned to lend Dairyland federal money to build NTEC without studying how its greenhouse gas pollution would impact the climate crisis, we saw a major red flag, and an opportunity.
We petitioned the RUS to study the project's climate impacts. Our petition pointed to several studies showing how the construction of new gas plants works against global efforts to limit warming to 1.5 degrees Celsius, which scientists agree is necessary to prevent the worst consequences of the climate crisis. It also pointed to studies showing the underestimated impact of upstream methane emissions. Finally, our petition highlighted the federal loan's contradictions with President Biden's commitments to fully decarbonize our economy by 2050. NTEC's existing environmental review, which failed to study climate impacts, was approved when Trump was still in office. 
After filing our petition, we asked our supporters to start applying the pressure, and you showed up big. More than 800 folks sent emails to Biden and the RUS.
In a big win for ratepayers and the climate, the RUS granted MCEA and our allies' request to study NTEC's climate impacts from burning fossil fuels for the next 30 years. More specifically, the RUS told Dairyland to square NTEC with the climate and upstream methane emissions studies that MCEA presented. 
That means the USDA could deny the loan for NTEC after analyzing the fossil fuel plant's climate impacts, which could result in preventing the power plant's construction altogether if Dairyland is unable to find another lender for its half of the $700 million construction costs. And while the environmental study is in progress, the federal loan cannot be given. 
MCEA and our allies' strategizing and unwavering commitment to stop the plant combined with the quick action of the public was the winning combination to achieve this important victory. Thank you! 
Plain and simple, the federal government should not be subsidizing new fossil fuel infrastructure. They should be funding solutions to address the climate crisis.
When the environmental study of the climate impacts of NTEC is complete, there will be a public comment period where your voice will be very important. We will be in touch when that happens.
In the meantime, thanks again. We couldn't do this work without your support.