Dec 27, 2021
December 2021 MCEA Newsletter

In this edition of MCEA's Environmental Monitor:
-MCEA filed a comment on the Lutsen Mountain expansion - learn why
-Take action: help protect the BWCA
-Chip in for our end of year fundraiser!
-PolyMet air permit back in the spotlight
-Limbo Creek case heads to MN Supreme Court
-MCEA's communications team is growing - learn how to apply!
-MCEA's CEO at the Great Water Debate
---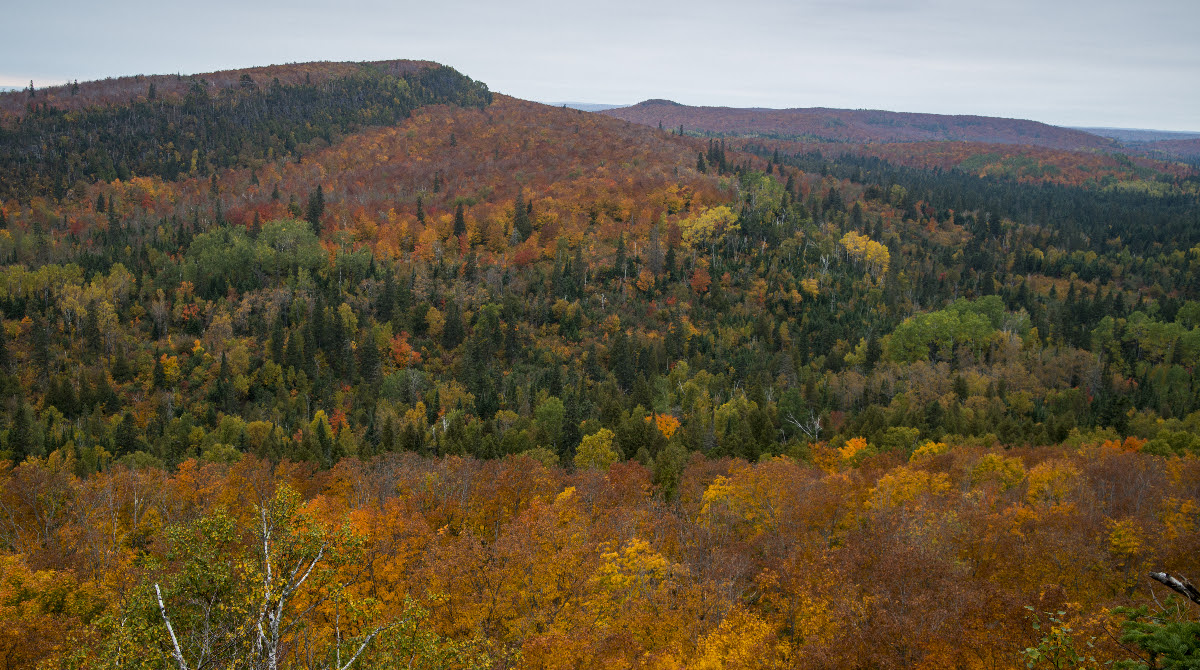 MCEA filed a comment on the Lutsen Mountain expansion - this is why
Lutsen Mountain ski resort in Northeastern Minnesota has proposed an expansion of its winter recreation area that, if approved, would convert nearly 500 acres of the Superior National Forest into new ski runs and chairlifts. 
While it may sound exciting to some to think about a bigger ski park in Minnesota, it could come at significant cost to local people, public lands, and sacred wild places. Click here to learn why MCEA submitted a comment urging the U.S. Forest Service to fix the problems with the flawed draft environmental impact statement (EIS) before deciding whether to issue a special use permit.
---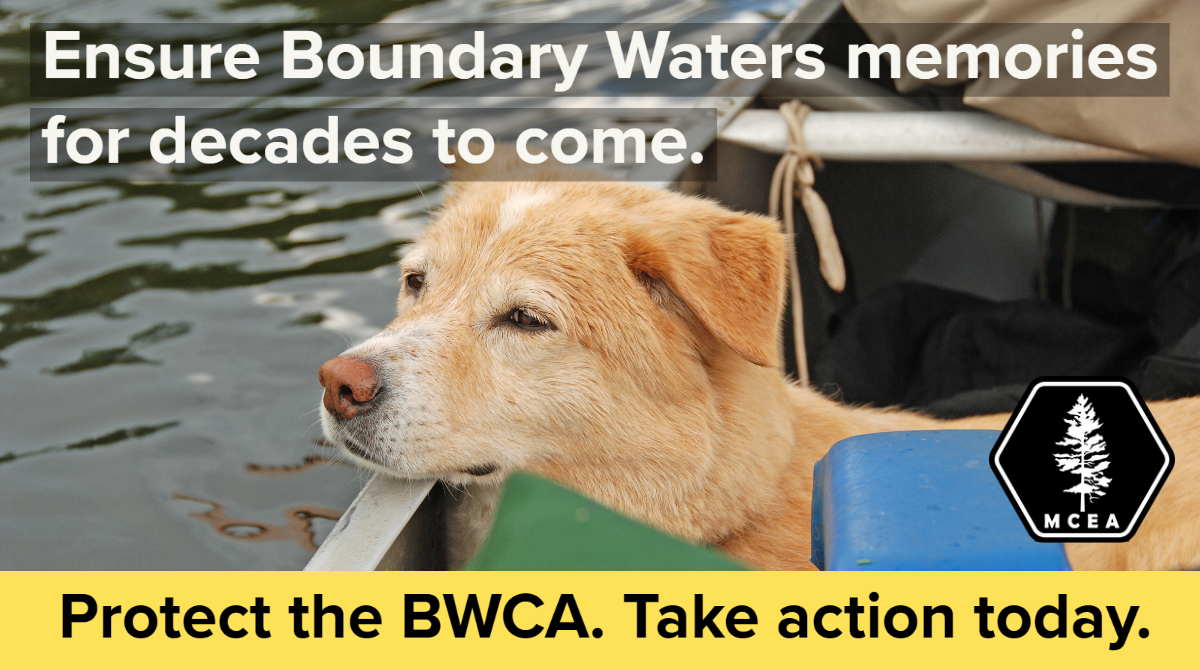 Take action today to protect the Boundary Water from sulfide mining pollution. 
You have the opportunity to speak up for the Boundary Waters right now! The federal government owns hundreds of thousands of acres of mineral rights in areas where pollution could run off into the Wilderness. Right now they are considering whether to end the practice of leasing federal mineral rights to mining companies - an action that would go a long way toward permanent protection of the BWCA. 
MCEA supports this action and we ask you to join us in pushing for an end to mineral leasing near the BWCA. It's easy, just click here before January 19th to send an email to the federal agency making this decision. You can also join in one of three online meetings to have your say - learn more about these meetings at this link.
Take action to help protect the BWCA
---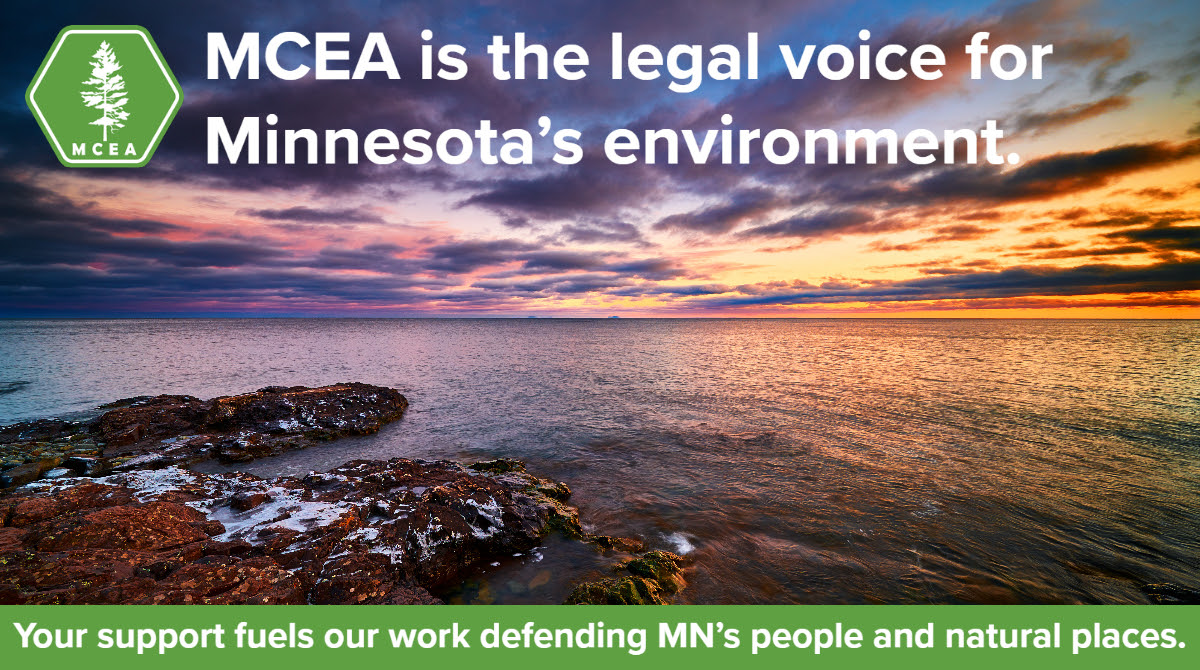 As we near the close of 2021, our legal team is reflecting on the challenges and accomplishments of another critical year for Minnesota's people and environment. Our lawyers have never been more busy. Just this week we learned that another of our cases will be heard by the Minnesota Supreme Court. This on the heels of a year in which the Court issued three separate decisions in MCEA cases.
"I've never seen this level of interest from Minnesota's highest court in our cases or our issues. This is unprecedented. We need your support to match this moment." Kevin Reuther, MCEA's Chief Legal Officer
MCEA is tackling some of the most high-profile environmental issues in our state head-on. And, we are locked-in for another big year. Generous support from donors like you fuels our growing team – now nearly 30 strong, including a dozen attorneys. 
MCEA's in-house legal expertise sets us apart. Our lawsuits have stopped PolyMet's dangerous sulfide mining proposal in its tracks. Our work has also led to groundbreaking court and agency decisions that are changing how our state addresses climate in environmental review, protects water resources from damaging row-crop practices, respects the rights of all communities – particularly low-income and BIPOC communities – impacted by pollution, and builds a clean electricity grid good for Minnesotans' wallets and for our climate.
Your support of our work makes all the difference. Make sure to chip in with a gift by Dec. 31st to ensure we have the resources to take on 2022.
 Have questions about your tax-deductible gift? Click here to learn more!
Support our work during our end of year fundraiser
---
PolyMet air permit back in the spotlight
On December 20th, the Minnesota Pollution Control Agency (MPCA) reinstated the PolyMet air pollution permit with no changes and issued new findings to justify it. The air permit had been remanded to the MPCA in July by the Minnesota Court of Appeals to address MCEA's argument that PolyMet is actually planning a much larger mine than their permits allow. 
When the Court of Appeals returned the permit to the MPCA, it made it clear that MPCA had failed to address the evidence MCEA submitted. This evidence shows that PolyMet is telling potential investors and Canadian securities regulators that they are planning a mine up to 4x the size and speed of their current permits. Nobody has ever studied how this mega-mine proposal would impact our air, water, and wetlands. 
Rather than investigate this evidence and consider whether PolyMet should have to reapply for a "major source" permit, MPCA chose to reissue the permit with no substantive changes. Put another way: rather than looking under the hood, MPCA slapped a coat of paint on the permit and put it back on the lot. 
Why is this important? PolyMet's plant has the capacity to crush up to 120,000 tons of ore per day, but they only have a permit to process 32,000 tons per day. By agreeing to an artificial limit on their capacity, they were able to get a less-stringent air pollution permit that doesn't require the use of best available control technology. It's proof that PolyMet is seeking to mine on the cheap, even if that means more pollution. 
MCEA's next step is to consider whether to appeal the air permit to the Minnesota Court of Appeals for the third time (they have remanded the permit to the MPCA twice already.) The deadline to appeal is in late January.
---
Limbo Creek case heads to MN Supreme Court
Public waters are public resources that provide public benefits. Limbo Creek is the last free-flowing stream in Renville County and is threatened by a proposal to turn it into a drainage ditch. This week the Minnesota Supreme Court announced it will be taking up this case, and its decision will have a huge local impact on Limbo Creek as well as public waters statewide. 
Public waters are protected for all Minnesotans. Environmental review and permits are required of any proposal that would ditch, drain or dam a public stream or lake. That's why MCEA's win on the Limbo Creek case at the Court of Appeals in October was so important. The ruling clarified that a public water is protected if it meets the definition in Minnesota law. 
A list of public waters created by the Minnesota Department of Natural Resources in the late 1970's – called the Public Waters Inventory – is incomplete and inaccurate, and Limbo Creek isn't on it due to a quirk of history. Renville County and a group seeking to ditch Limbo Creek claimed that Limbo Creek shouldn't be protected because it's not listed on the inventory. The Court of Appeals held that Minnesota law defines what a public water is, not the Public Water Inventory's incomplete list. 
After our win in October, nearly all of the commodity agriculture groups in Minnesota lined up to challenge the decision. At the Supreme Court, we will face not just Renville County and the proposers of this project, but also the Minnesota Farm Bureau, the Minnesota Corn Growers Association and the Minnesota Soybean Growers Association. MCEA represents itself and a group of local residents, nearby farmers and downstream people called Protecting Public Waters in this fight. 
This will be the fourth Supreme Court case for MCEA in a little over a year, which is unprecedented, and expensive. Thanks to your support, we're able to take on legal Goliaths like the agriculture industry at the Supreme Court. If you haven't already, consider making a year-end contribution so we can defend this important precedent protecting public waters across Minnesota.
Watch this video to learn more about the battle to protect Limbo Creek from being turned into a ditch: https://youtu.be/DGp-Yo5bWqo
---
Great Water Debate
Many of the folks who work at MCEA have a background in speech and debate, including our CEO Kathryn Hoffman. She was a Michigan state champion debater in high school and a nationally competitive debater in college. So when the nationwide topic for high school policy debate was announced this year, ("Resolved: The United States federal government should substantially increase its protection of water resources in the United States") we were excited, and even more so when the Minnesota Urban Debate League (MNUDL) asked Kathryn to serve as a judge at this year's event: the "Mayor's Challenge: Great Water Debate." 
Along with St. Paul Mayor Melvin Carter and Minneapolis Mayor Jacob Frey, Kathryn judged a debate featuring some of the top students from Minneapolis, St. Paul and Roseville schools who represented the nearly two dozen debate programs of the MNUDL.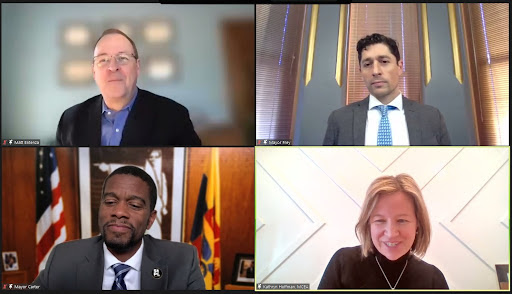 Ultimately, it was a 3-0 decision for the affirmative team arguing for more regulation of nonpoint sources of water pollution like agricultural runoff, with Kathryn agreeing with both mayors. The online audience also agreed that the affirmative team won. 
We're excited to see the next generation of advocates developing through debate. As Kathryn told the debaters, "I work in advocacy, and when I see a resume that mentions debate experience, I want to know more about that candidate." 
Learn more about the Minnesota Urban Debate League and their mission to bring debate back to schools in Minneapolis, St. Paul, and nearby suburbs.
---