Feb 28, 2023
February 2023 Newsletter

In this edition of MCEA's Environmental Monitor:
Legislative updates on important bills and how you can take action - including staying up to date with the latest developments via MCEA's Bill Tracker 
Read: A new blog post from Chief Equity and Partnership Officer Eric Ini 
Everything you need to know about MCEA's efforts to ban toxic PFAS chemicals 
Update on MCEA's work with the Leech Lake Band of Ojibwe, and an important legal victory
Read: Two new op-eds from MCEA staff on Right to Repair legislation and a recent ruling on the Minneapolis 2040 plan 
New ways zoning and legislation can address pollution in overburdened communities
---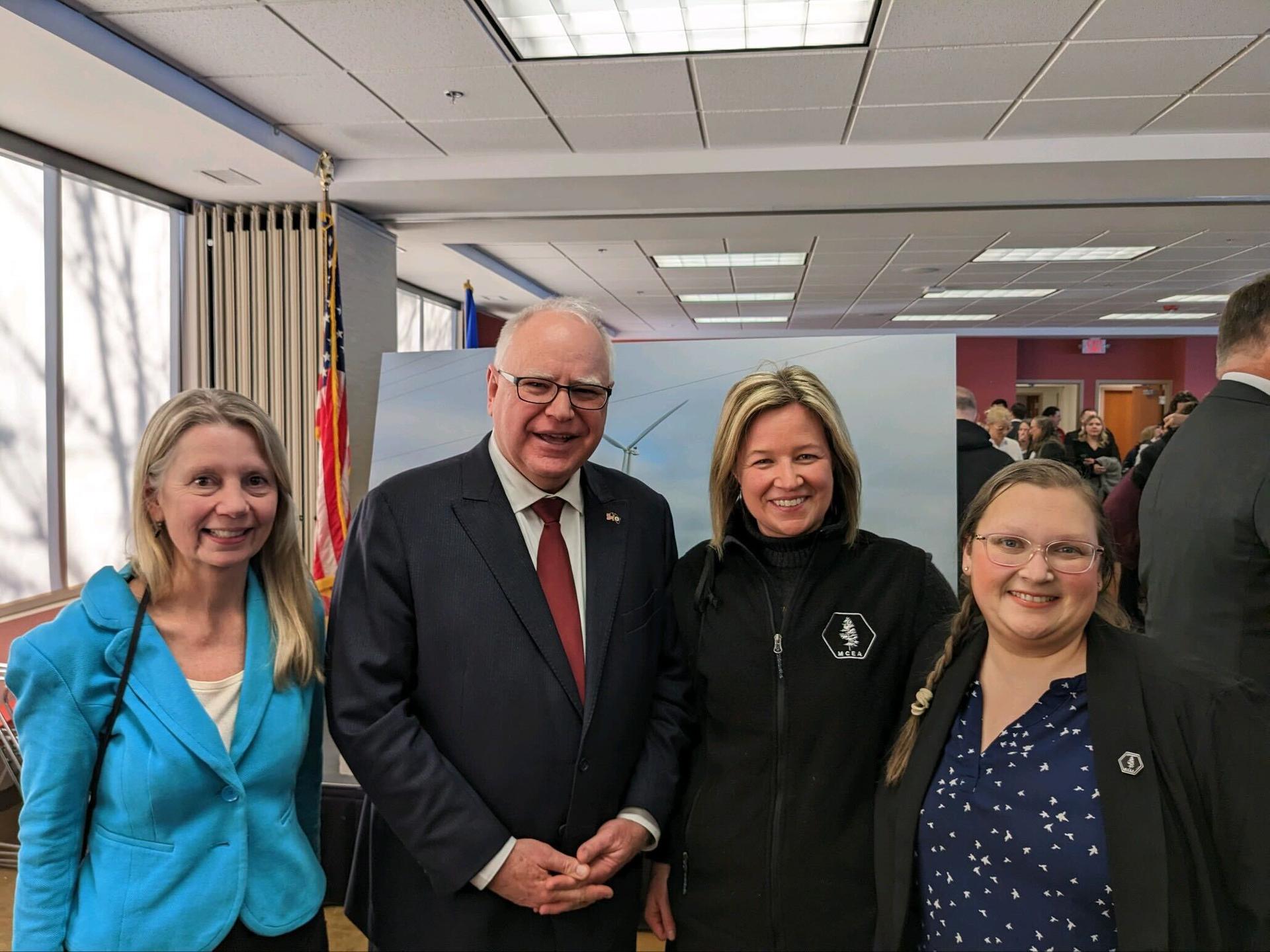 Pictured: MCEA Climate Program Director Ellen Anderson, Gov. Tim Walz, MCEA CEO Kathryn Hoffman, MCEA Legislative Director Andrea Lovoll at !00% bill signing
Minnesota is a 100% clean electricity state! 
Minnesota is now a carbon-free electricity leader, with the legislature passing and Governor Tim Walz signing the 100% clean energy by 2040 law earlier this month! In addition to the ultimate goal of 100% carbon-free energy, the law also sets ambitious goals to quickly reduce climate pollution from electricity in the coming decade, a 80% reduction by 2030. This is critical - avoiding the worst impacts of the climate crisis means we must make rapid progress. A 100% carbon-free electrical system will create a virtuous cycle. As we electrify our transportation system, and as we transition to electric heat pumps and clean induction stoves, we will get even greater benefits. 
MCEA has been on the steering committee and is a core member of the 100% Campaign, the coalition that led this work. We've testified for the bill, shared our experience pushing for the retirement of fossil fuel power plants across the state, and helped to draft the strongest possible language. We were thrilled to be at the bill signing, celebrating the passage of the most consequential environmental legislation in over a decade. 
Most important, thanks to all of you. If it wasn't for the clear message of people from across the state pushing for this, it would not have been possible and certainly wouldn't have been one of the first laws completed in 2023. You made it happen! Congratulations.  
Chip in to support our legislative work
---
 Reflecting on Black History month at MCEA
In honor of Black History Month, MCEA's Chief Officer of Equity and Partnerships, Eric Ini, wrote a blog post about the colors used to celebrate the month – black, red, yellow and green. To learn about the colors' African roots, check out the piece here. 
MCEA is committed to trying to better understand our history in small and big ways so that we can be better partners on environmental justice issues facing Black community members today. 
---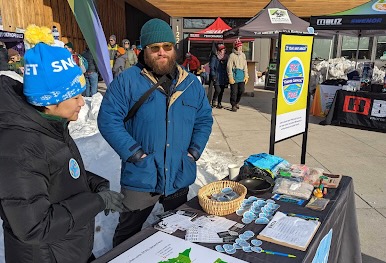 Pictured: MCEA's Healthy Communities Advocate Mainhia Thao and Digital Communications Manager Adam Reinhardt table at the Loppet Event
The fight to ban PFAS in MN is heating up - take action to help
We are firing on all cylinders to stop the spread of unnecessary and dangerous toxic PFAS chemicals in Minnesota. PFAS are found in everyday products like cookware, clothing, cosmetics, ski wax, and dental floss. PFAS are also linked to a variety of health conditions, including cancer. Known as forever chemicals, PFAS are extremely slow to break down and instead bioaccumulate in our bodies and environment. That means the easiest and most practical way to start addressing their impacts is to stop allowing them in our state. 
The good news is that bills have been introduced to ban PFAS in a host of everyday products, but national lobbyists for big manufacturing companies are trying to stop them from being made into law. Multiple MCEA staff members, including Legislative Director Andrea Lovoll, provided powerful testimony in support of the bills at the Legislature this past month. Listen here. 
MCEA also co-hosted a community meeting with Clean Water Action to tell key legislators that Minnesotans want these bills to become law. TAKE ACTION - Do your own part to support these bills by taking this quick and easy online action here. Every voice helps. 
Finally, MCEA staff participated in an innovative event to collect PFAS-laced ski wax at the Loppet Winter Festival at Theodore Wirth park. Staff spread the word about the dangers of PFAS and helped people safely discard their old fluorinated wax. 
---
Court of Appeals Decision upholds treaty rights
MCEA won an appeal on behalf of the Leech Lake Band of Ojibwe at the Court of Appeals earlier this month, with the court ruling further environmental study was needed for a massive oriented strand board (OSB) factory the Band feared would affect its treaty resources.  
Huber Engineered Woods had proposed building a stadium-sized factory near Cohasset, MN, one mile away from the Band's Reservation—but it failed to consult with the Band about the project and its effects. Building the factory would have required destroying almost 30 acres of wetlands, and the court determined this destruction could harm an important downstream wild rice bed used by the Band's members. 
Three days later, instead of ensuring the effects of the project were properly studied, Huber announced it would not build its factory near the Reservation. This important decision from the court will help ensure respect for Tribal authority and treaty rights in the future. Read the time-line of this work here.  
---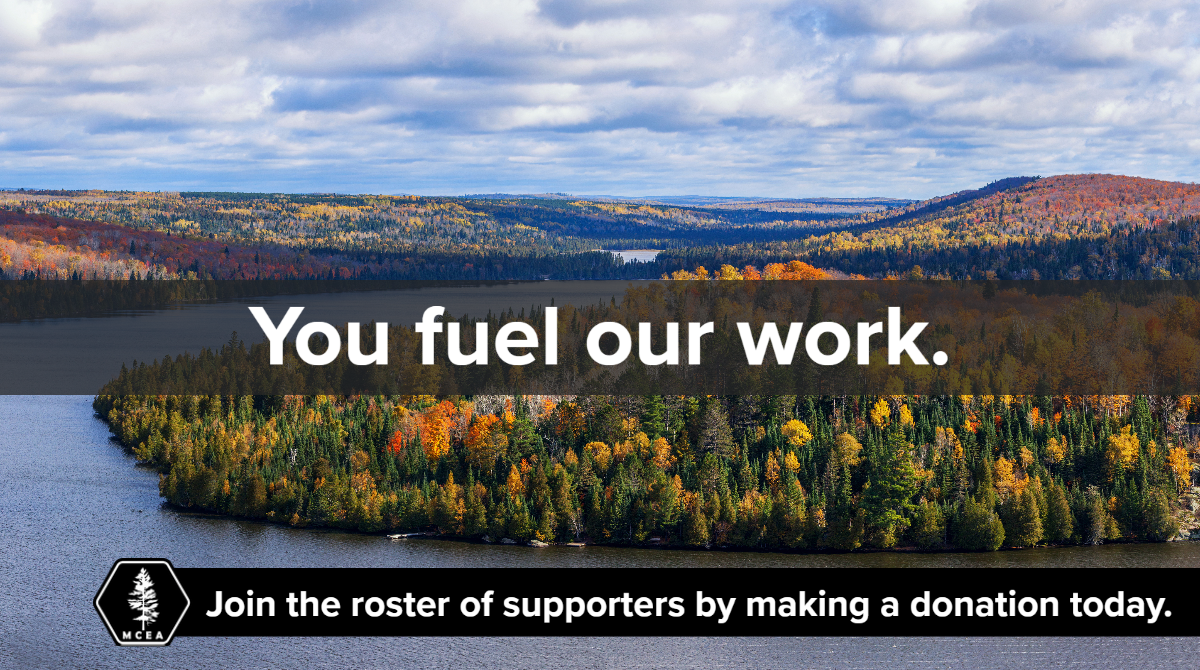 Fund systems change: Become a sustaining donor today
When you set up recurring donations, you support the big work of systems change with regular, cost-effective contributions. These gifts help MCEA respond to emerging issues confidently, knowing we have the support of many as we find creative solutions to complex problems. 
Join the 200+ Sustainers who help make this work possible! 
---
Legislative progress on clean water, clean transportation, and environmental justice - here's how you can help
MCEA's legislative team has been all across the Capitol, pushing for action on clean water, transportation, and environmental justice. Here are a few updates:
Smart Salting: SF 755 / HF 820, the Smart Salting legislation, was approved on a voice vote in the Senate Environment, Climate and Legacy Committee. This legislation was supported by a broad array of watershed organizations, the Coalition of Greater Minnesota Cities, and environmental groups. MCEA works with StopOverSalting (SOS), a group of citizens and Master Water Stewards to advocate for education and best practices to reduce overuse of salt. Thanks to Sen. Kelly Morrison and Rep. Brad Tabke for authoring the bill. 
TAKE ACTION - Email your legislators and let them know you support smart salting to protect Minnesota lakes.
Northern Lights Express (NLX): MCEA testified in support of bill HF 409 / SF 202, which would provide state funding for the Northern Lights Express (NLX) - an intercity passenger rail line between Minneapolis and Duluth. In addition to being a good idea for transportation access and quality of life reasons, NLX would reduce greenhouse gas emissions compared to personal vehicles. Given all the attention paid this legislative session to metals for Electric Vehicles (EVs), our MCEA testimony also pointed out that NLX would enable people to reduce dependence on cars and thereby reduce demand and consumption for EV-relevant metals.
Lead Water Service Lines: Lead pollution of drinking water is a key environmental justice concern. Federal funding to replace lead water service lines is available, and Minnesota is moving to quickly and effectively replace them. One key public policy challenge is that it is important to replace both the "public" side (up to the water meter) and the "private" side (from the water meter to the home) at the same time. MCEA testified for bill HF 24 / SF 30, and the need to do both and for state funding to fully access federal resources. Learn more.
Digital Fair Repair: Reducing the need for metals, maximizing our use of already-mined materials, and reducing waste are related to a whole array of MCEA's legal work. That's why MCEA supports Right to Repair legislation that requires manufacturers to give consumers and independent shops the knowledge and tools needed to repair electronics. Instead of throwing electronics in the trash, we should be extending their useful lives. MCEA testified for HF 1337 / SF 1598 in committee, and wrote a commentary in support of this legislation. 
Follow the MCEA Bill Tracker here
---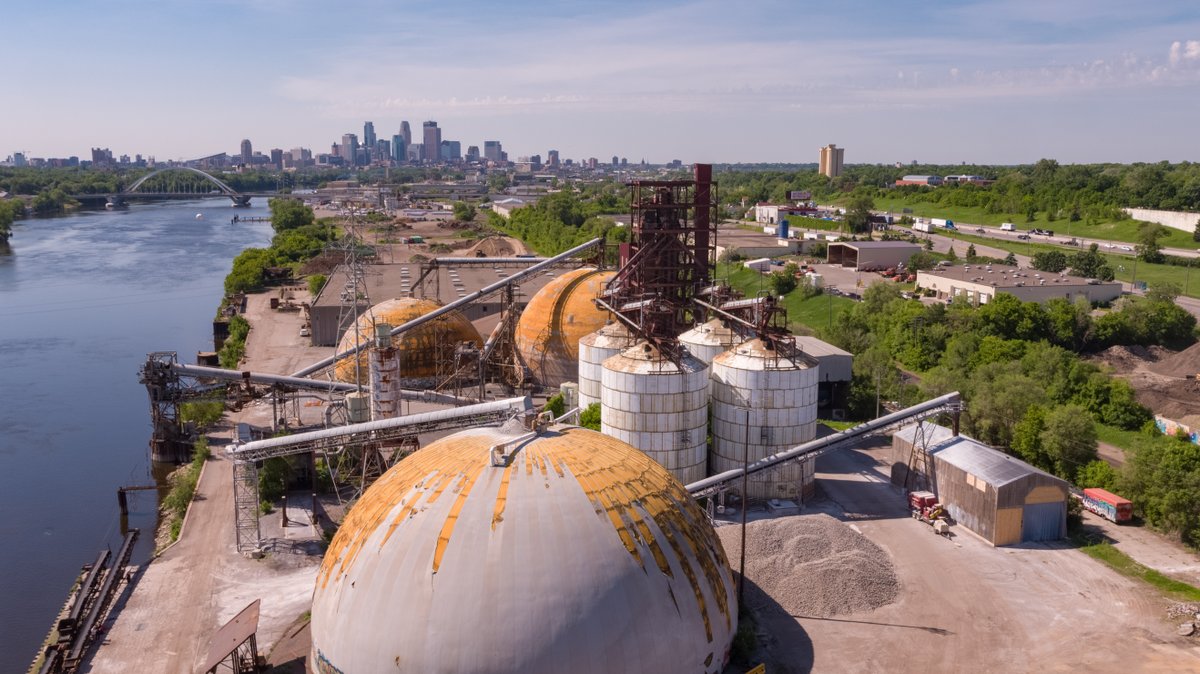 Working for environmental justice with community partners
MCEA is proud to be a member of the Frontline Communities Protection Coalition, a group of community members and organizations pushing for legal protections for communities overburdened by pollution in Minnesota. 
The Frontline Communities Protection Act (FCPA) - HF 637/SF 466- is a bill that addresses the concentration of polluting facilities in poorer communities and communities with more Black, Indigenous, and people of color. This history of systemic injustice has led to certain communities bearing the brunt of pollution, leading to increased health, environmental, economic, and social inequities. The coalition and bill seek to change how facilities are permitted, including taking into account the pollution already present in a neighborhood - the "cumulative impact".
MCEA hosted a webinar with Roxxanne O'Brien of Community Members for Environmental Justice (CMEJ) and Sophia Berund of the Minnesota Environmental Justice Table. You can watch it here to learn more about cumulative impacts, the history of organizing for the bill, and what it could mean in the future. 
TAKE ACTION - Tell your legislators you support the bill - we made it easy for you to email them your thoughts. 
---
 MCEA staff in the news
MCEA staff continue to help shape important conversations and pushback against false narratives by strategically placing guest commentaries in local publications. Two appeared this past month. Check them both out below: 
---
 Using Minneapolis' proposed new zoning code to limit pollution on overburdened communities 
As part of the City of Minneapolis's implementation of the historic and widely-discussed 2040 Plan, City staff are undertaking an equally historic re-codification of the City's Zoning Code to align it with the goals of the 2040 Plan. The zoning code - also known as the zoning ordinance - was first enacted in 1924, and has only been completely re-written twice since 1924. 
MCEA attorneys have been hard at work alongside community advocates and experts from Communities for Environmental Justice (CMEJ), to analyze the new code, focusing in particular on the ways the City has proposed to limit some heavy industrial and high-polluting uses from locating in the City, while allowing others. Getting this right is important because of how the City's industrially-zoned areas have, over decades, generated legacy areas of heavy pollution concentrated in low-income communities of color. This work presents an opportunity to prevent further industrial pollution and the harm it causes in already overburdened communities.
CMEJ and MCEA plan to share our analysis and recommendations with the City. Stay tuned for more on this issue soon. Learn more about the new zoning code here.