Jan 13, 2021
January 2021 MCEA newsletter

In this edition of MCEA's Environmental Monitor:
- Minnesota's climate report reveals shocking lack of progress
- MCEA statement calling for a halt to Line 3 construction
- Take Action: Demand environmental review before vote on Upper Harbor Terminal
- Minnesota Power's vision for 100% carbon-free energy tainted by new fracked gas proposal
- Take Action: Support Clean Cars MN standards
- Event: Online rally and press conference for the East Phillips Indoor Urban Farm Project
- 2021 Legislative Update
---
On Thursday, the Minnesota Pollution Control Agency (MPCA) finally released Minnesota's most recent climate report. Described as a "wake-up call" by the MPCA's climate director, it shows a shocking lack of progress toward meeting the goals set by the Minnesota Legislature in 2007. Even worse, we are moving backwards, giving back a third of the improvements we made from 2005 to 2016 in the last two years of data. 
What we are doing isn't working. In fact, if this report were a student's report card, that student's parents and teachers would be sitting down for an emergency conference to take immediate action.
This recent climate report from MPCA makes it crystal clear that bold climate action is needed, and needed now. 
---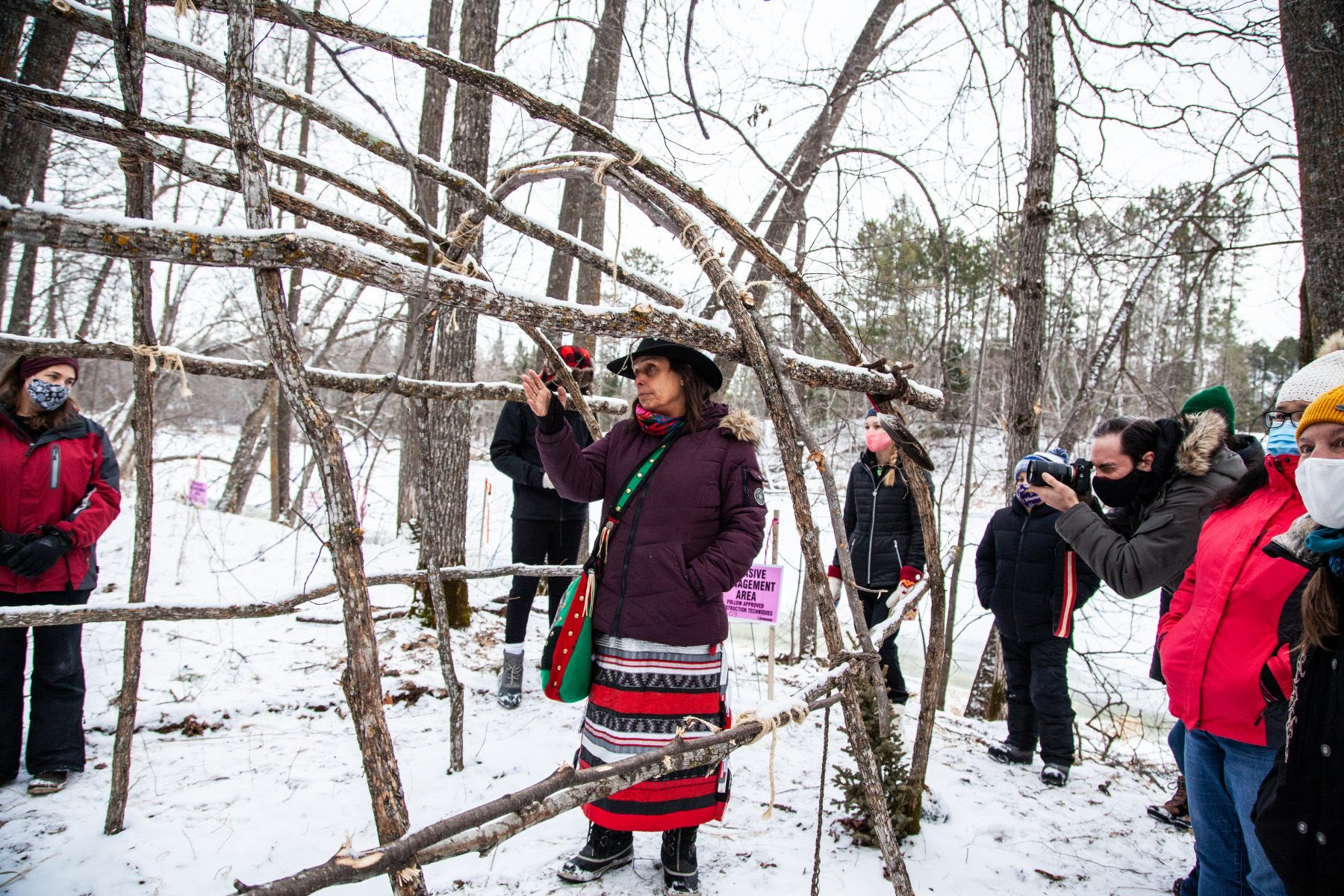 Governor Walz must order a halt to ongoing Line 3 construction
The Line 3 expansion—and the major increase in greenhouse gas emissions that would result from its operation—is incompatible with a safe and healthy future for Minnesota. It is inconsistent with the United States' treaty obligations, including its trust responsibility to protect the retained rights of native nations. It would intrude on treaty territory, where the Ojibwe have retained hard-fought rights to healthy fish and game. And it would create the risk of oil spills in ancient wild rice beds, village sites, graves, and other places that could never be restored. 
Legal challenges filed by the White Earth Nation, Red Lake Nation, and others are currently pending. Minnesota should stay construction of the Line 3 expansion because the construction would likely be completed before the legal challenges are addressed by the Courts. 
We view our work as part of a broader social movement for justice. MCEA supports and stands by Water Protectors, Honor the Earth, Giniw Collective, RISE Coalition, and Gitchigumi Scouts who are exercising their rights and bearing witness to the ongoing destruction. We invite MCEA supporters to donate directly to the legal defense fund at bit.ly/L3legal-defense. To learn more about the issues, visit stopline3.org. 
---

Bedrock environmental laws must be correctly applied in all communities. Take action now to ensure the impacts are understood before any further decisions are made on the Upper Harbor Terminal.
The Minneapolis City Council plans to vote next month on the Coordinated Plan for the Upper Harbor Terminal redevelopment. The vote on this 92-page plan is scheduled to take place before the environmental study is completed. Northside community members have raised serious concerns about the impact of this proposal to their community, including:
noise and air pollution
congested roads
displacement of community members
These concerns, in addition to many other potential impacts, demand comprehensive environmental review. Under Minnesota law, this study must be completed before the vote takes place.
We have partnered with Community Members for Environmental Justice (CMEJ) to call on the city to study the impacts and alternatives to the current proposal before making any further decisions. 
Historic and continuing environmental and pollution disparities impact the lives of community members in the Northside every single day. The city must ensure that this proposal does not add to this injustice.
---

Minnesota Power announced this week a "vision" for 100% carbon-free energy by 2050. It is exciting to see the northeastern Minnesota utility join others in our state in embracing these goals. However, Minnesota Power hasn't scrapped plans for the Nemadji Trail Energy Center (NTEC) fracked gas plant, which was overturned by the Minnesota Court of Appeals. NTEC is currently pending a decision at the Minnesota Supreme Court. If Minnesota Power is serious about clean energy, it should not build a brand new $700 million fracked gas power plant. Minnesota Power's vision for carbon free energy is good. Saddling ratepayers and the climate with an expensive new fossil fuel power plant that would add up to 2 million tons of pollution to the atmosphere every year is not consistent with this vision. 
We have reliable options now that are cheaper and cleaner.
Take action today to call on Minnesota Power to commit to a rapid decarbonization of their energy mix. 
---
Take action: support Clean Cars MN Standards
In mid-December the MPCA released its draft rule for Clean Cars MN standards. These standards are a step in the right direction for reducing the climate pollution created by transportation, the most carbon-intensive sector in the state.
Take action today to support the adoption of strong Clean Cars standards.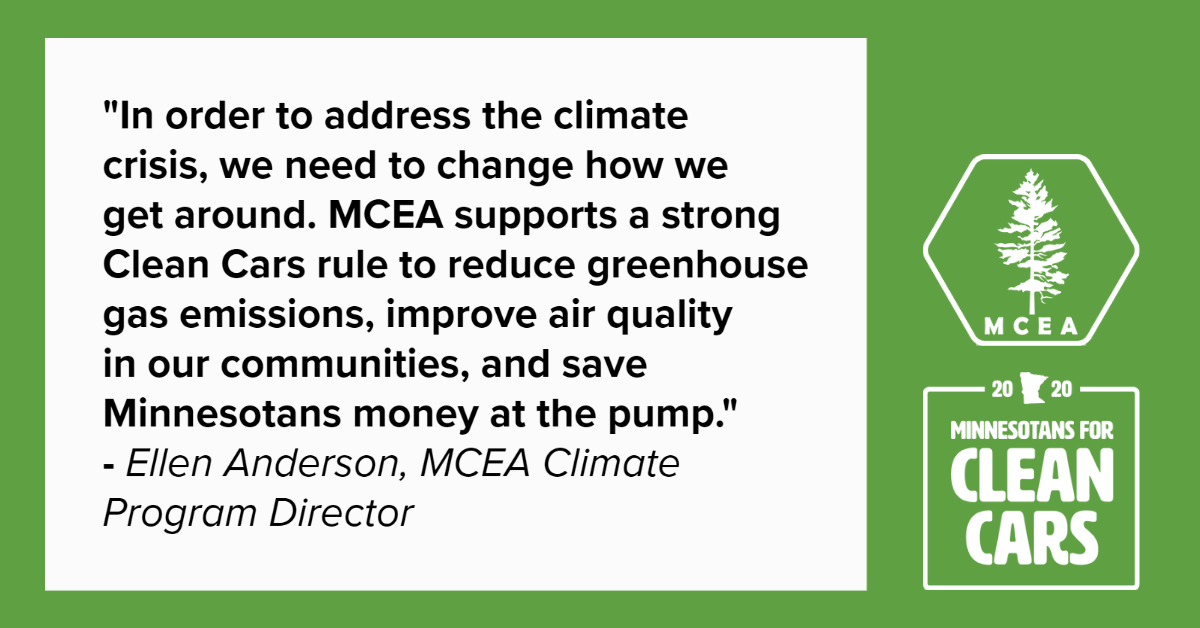 ---
Event: Online rally and press conference for the East Phillips Indoor Urban Farm Project
MCEA encourages our supporters to tune into the online rally and press conference hosted by the East Phillips Neighborhood Institute to learn more about a vision for an alternative, sustainable future for the Roof Depot site in Minneapolis. Hear about the Indoor Urban Farm Project and engage with local leaders and the community to help bring about an environmentally just future for East Phillips.
The City of Minneapolis has proposed using this site for their water department and other services. MCEA is working with community members to analyze this proposal and explore more appropriate uses of this public land.
Event details:
Saturday, January 16, 2021
12:30 PM – 1:30 PM CST
---

An Impassioned Beginning to the 2021 Legislative Session
How do you hold a legislative session during a global pandemic? As we continue our fight for environmental justice, the results of the 2020 election resulted in a continuation of split party control of the Minnesota legislature. The tensions between the Republicans who control the Senate and Democrats who control the House have only intensified, and the stakes are high for all Minnesotans on a variety of issues. Among them: COVID-19 economic relief, vaccine distribution, care of vulnerable populations, the housing crisis and rising homelessness, racial and social justice, and the climate crisis. And both bodies need to agree on the state's budget, which is projected to run a $1.27 billion deficit in the 2022-23 biennium. 
COVID-19 has slowed the Legislature and emergency orders have become a flashpoint of disagreement. Cumbersome remote hearings, the mechanics of voting and coordination among remote workers present unique challenges for lawmakers and legislative staff. It also makes it more difficult for Minnesotans and advocates like MCEA's legislative staff to directly access legislators in the Capitol hallways, their offices, committee hearing rooms, and outside the Senate and House Chambers. The fence that surrounds the Capitol building is real and the impact is substantial. 
Bill Tracker
Legislation that affects clean water and climate justice can be difficult to track and understand. MCEA new website makes this easier. We provide a bill tracker that contains a quick summary of each bill and MCEA's position, and provides quick links to fact sheets, MCEA testimony and actions you can take.
Action Alerts
During the legislative session, we need your help to encourage your legislators to take action to defend Minnesota's environment. Legislators prioritize their constituents, so your voice matters! Don't miss critical action alerts during the legislative session - add mncenter.org to your "whitelist" of email addresses so action alerts don't end up in your spam folder. You can always see the current actions on our website. If you don't know who your Senator and Representative are, you can find out here.
Our goal this session is to be creative in engagement, education, and empowering our supporters to have their say. Finding new ways to communicate with legislators will be crucial in how successful we can be this session. Please keep an eye out for action alerts and join in so we can push for clean water and climate justice at the Capitol in 2021.