Jun 09, 2022
May 2022 Environmental News Letter

In this edition of MCEA's Environmental Monitor: 
End of Session legislative update
MCEA is hiring: Water Program Director
Double your impact: We have a match!
Article: Real climate solutions protect peatlands
Take action: Last chance to comment on Fond du Lac's "404" hearing
MCEA 2022 CLE Series: The Green Beagle
Event: Stop by our table at Open Streets Lyndale this Sunday!
Event: Join EPNI's community meeting on the future of the Roof Depot
---
2022 End of Session Legislative Update
The 2022 legislative session ended in a whimper, not a bang. Negotiations stretched late into the night on Sunday, and many bills simply didn't have the time to go through both the Senate and the House by the midnight deadline. That resulted in the passage of very little this session, and given that it's not a budget year and the looming election is occupying many legislators' mental energy, the possibility of a special session is unknown. There is nothing that would force the Governor's hand to call a special session – the government won't shut down, and there is nothing critical to the state's operation that must be done. That said, there has been some discussion about a possible special session since there are a number of agreements on bills, but so far there have been no commitments from anyone. 
The good news is that if the Legislature does come back for a special session, our hard work has prepared us well for success on the already agreed upon Environment and Natural Resources Omnibus Supplemental Budget Bill. While the bill doesn't didn't contain any life-changing funding given that the target was a mere $10 million, every proposed bad policy provision was left out of the final bill. That includes language that threatened our state's wetlands. Thank you to everyone who completed our action alert on wetland protection in the final hours of session. We are reminded every session that supporter response to our targeted online actions is one of our most powerful tools. 
---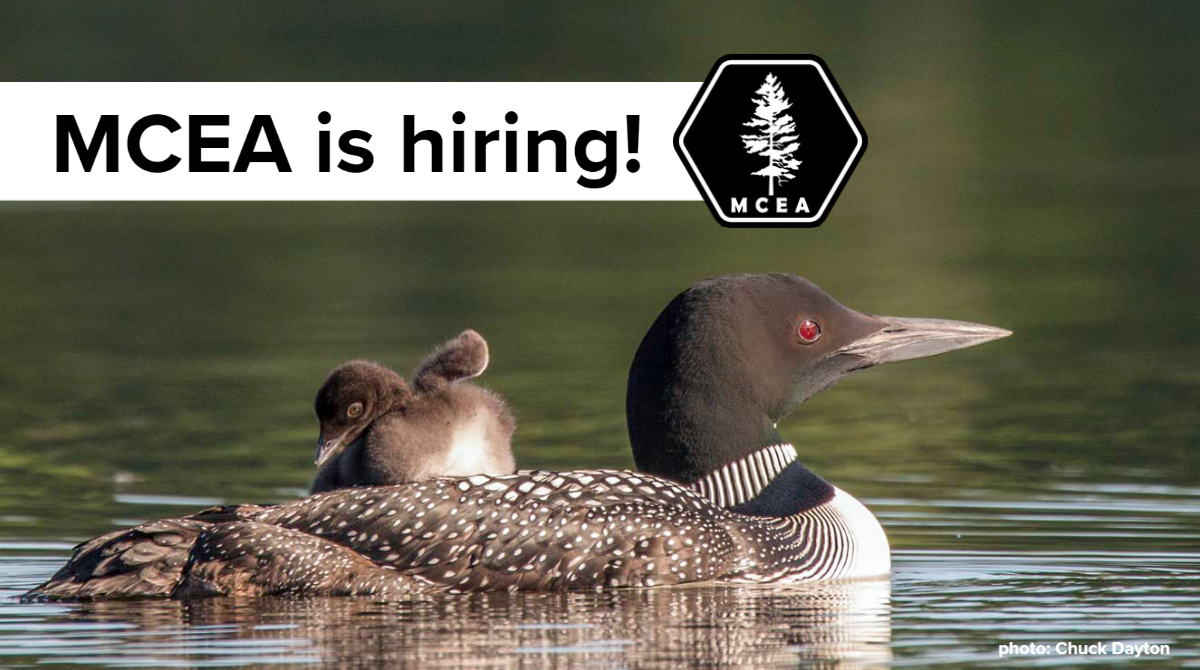 MCEA is hiring: Water Program Director
Apply by June 6th, or share with your network!
If you haven't heard the big news, MCEA's Water Program Director, Elise Larson, has been appointed to the Minnesota Court of Appeals.
With Elise's departure, MCEA is seeking a new Water Program Director to guide our work defending Minnesota's precious water resources. Priority consideration is given to applicants who apply by June 6th. 
Apply soon if you're interested or share this exciting opportunity with your network.
It's easy! Copy this URL to post on social media: https://www.mncenter.org/hiring_water_program_director
–or–
Simply forward this newsletter along to the person that you think might be right for the job!
Click here to learn more and apply
---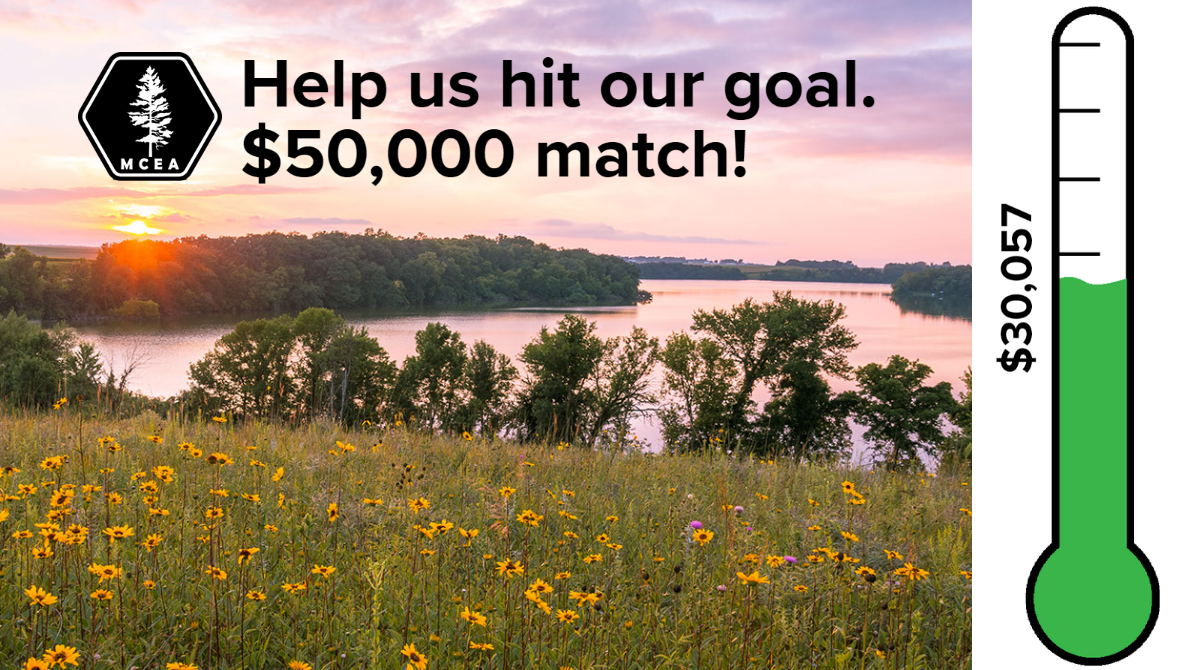 Keep the momentum going: Double your impact!
The end of MCEA's fiscal year is June 30th and the generous folks at the Smikis Foundation have put a $50,000 match on the table to help us hit our fundraising goal. Donate by June 15th to double your impact!
A precarious legislative session, current and emerging legal battles, and the worsening climate crisis underscore the need for strong environmental advocacy in Minnesota. We are fortunate to live in a state with such natural beauty. That comes with a serious responsibility to protect what we cherish as a state and ensure it is accessible to all of us – now and in the future. MCEA is on the job.
MCEA envisions a thriving climate, clean water, clean air, healthy ecosystems, a sustainable economy, and improved public health for all Minnesotans. We are committed to growing our capacity and impact. Whether you can chip in $5 or $500, your donation today supports that vision.
Donate now to have your gift matched
---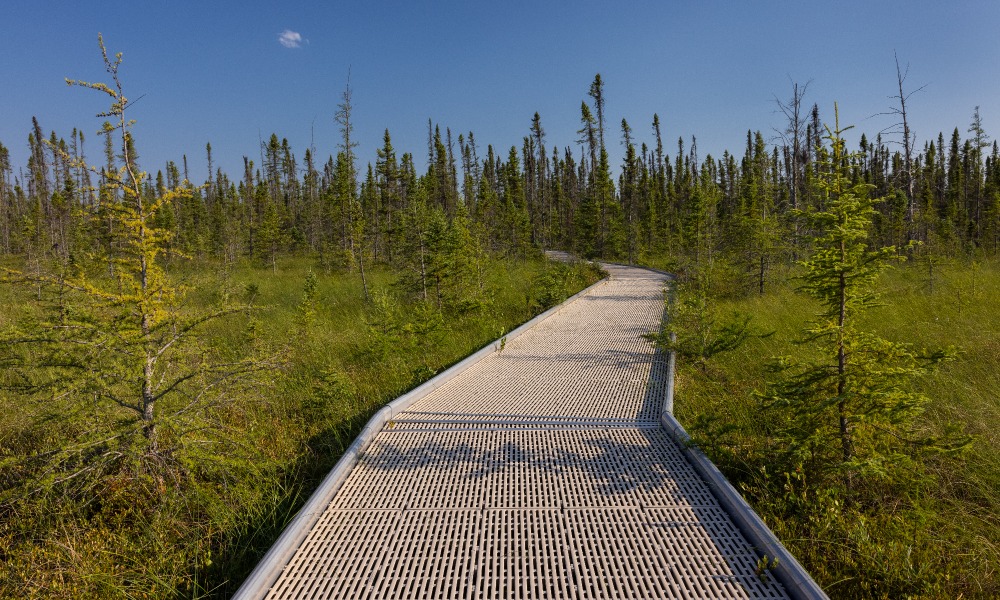 Real climate solutions protect peatlands
The latest in MCEA's Mining the Climate Crisis series
Peat is neat… but you might already know that! Peatlands, a type of cold-climate wetland dominated by spongy sphagnum moss, cover just 3% of the Earth's surface, but they are the world's largest terrestrial carbon store. Minnesota has more peatlands than any other state besides Alaska. These understated ecosystems play an outsized role in helping people and wildlife adapt to the impacts of climate change – but they're threatened by sulfide mining proposals that claim to be essential for sourcing metals needed to combat climate change.
Real climate solutions protect peatlands is the latest in our series: Mining the Climate Crisis – where we take mining industry talking points head on. Read the article here to learn about peat, why it's so critical to addressing climate change, and how it fits into important questions about sulfide mining in Minnesota.
Short on time? Here are the big three takeaways:
Protecting Minnesota's peatlands is one of the most effective tactics to fight climate change, as peat has an unparalleled ability to sequester carbon and can be a major source of greenhouse gas emissions if disturbed.
Large, connected expanses of intact peatlands provide diverse ecosystem services that cannot be replaced and will become more important as the climate changes.
Real clean energy solutions protect peatlands.
Looking for more? Click here to explore our Mining the Climate Crisis homepage. We've published four articles so far, and the homepage has additional resources - check it out!
Are you enjoying this series? Share links to the articles with a friend to keep the conversation going!
---
Take action: Last chance to comment on Fond du Lac's "404" hearing
As you know, we have been closely tracking the Fond du Lac Band of Lake Superior Chippewa hearing with the U.S. Army Corps of Engineers about the PolyMet "Section 404" wetlands destruction permit. We support the Band's position that the Army Corps should not re-issue the permit because it would violate the Band's water quality standards. Please consider joining our written comment to the Army Corps or submitting your own by June 6. 
This groundbreaking process with the Fond du Lac Band is a critical opportunity to stand with the Band in defense of Minnesota's wetlands, clean water, and the Band's federally-approved water quality standards. Please join us. The Army Corps will make its decision about the permit some time after the June 6 written comment deadline and we are confident that, if evaluated in full, the Corps will find that the 404 permit cannot be reissued.
---

MCEA 2022 Continuing Legal Education series
After a successful launch of our Green Beagle series last year, The Minnesota Center for Environmental Advocacy (MCEA) is excited to announce a three-part Continuing Legal Education (CLE) series for 2022. The free series will consist of two online sessions and will culminate in an in-person half-day session in the fall. This series is designed for lawyers, but open to anyone interested in diving deep on important environmental legal topics. 
As a leading public interest environmental nonprofit in Minnesota, MCEA is on the cutting edge of environmental litigation in the state of Minnesota. We invite you to join our legal experts for pertinent and engaging sessions on environmental justice, mining regulation, and the Clean Water Act.
The first installment in the series is happening on June 21st. RSVP now to: Environmental Justice and Civil Rights: Title VI of the Civil Rights Act of 1964. 1 elimination of bias CLE credit has been applied for.
Sign up! And share with a lawyer in your life (lawyers love getting free CLE credit.)
Click here to learn more and RSVP to our 2022 CLE Series 
---

Stop by our table at Open Streets Lyndale this Sunday!
It's warming up, which means it's time for Open Streets Minneapolis! Grab your bike, or your best pair of walking shoes, and join us Sunday, June 5th between 11AM - 4:30PM.
MCEA's table is near the corner of Lyndale and 29th Street across the street from Galactic Pizza. Stop by to say hello to some MCEA staffers, take our action to help protect clean water, and grab a cool exclusive MCEA sticker.
We hope to see you there.
---
Join EPNI's Roof Depot community meeting
East Phillips residents invite you to a community conversation about the future of the Roof Depot. Whether you're a longtime resident of East Phillips, new to the neighborhood, or just looking to support important environmental justice work in the Twin Cities – please join!
Community members, led by neighborhood group East Phillips Neighborhood Institute (EPNI), have been fighting for years to stop the development of a polluting public works facility in favor of a community-led urban farm vision on the Roof Depot site. After years of work, and lots of back-and-forth with the City, East Phillips is at a crossroads and hard decisions need to be made about what the community wants to do next. 
Join EPNI, community members, and urban farm supporters for a meeting from 1 to 3 pm June 12 at 2307 17th Ave. South in Minneapolis' East Phillips neighborhood.  The event is a great opportunity to hear about the options in front of the community, learn about the history of the neighborhood and its urban-farm proposal, and help East Phillips decide how to make the vision for a community-oriented development at the Roof Depot a reality.