Jul 29, 2022
PolyMet / Teck joint venture: New name, same (and potentially even bigger) problems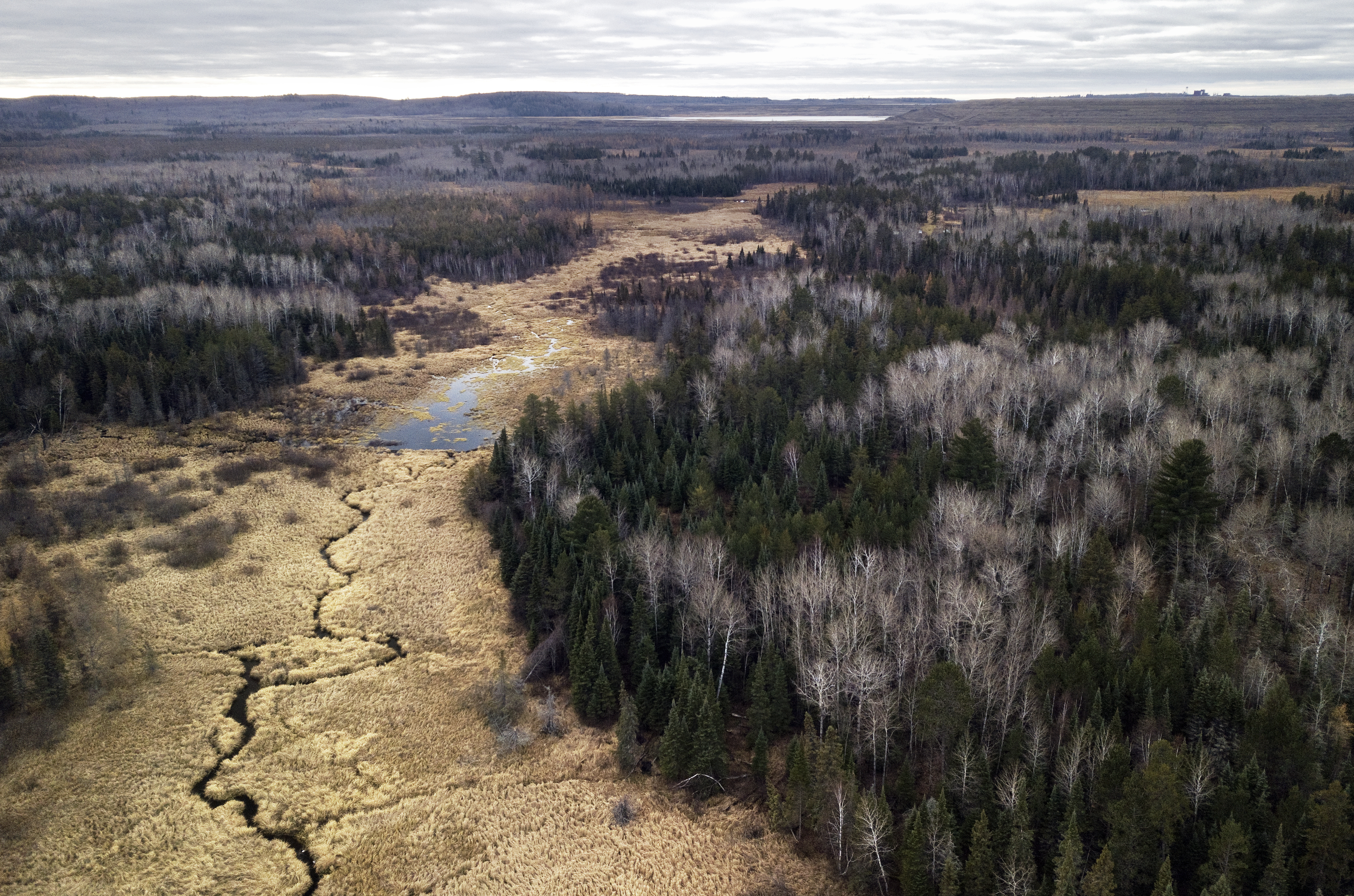 July 29th, 2022, Aaron Klemz, Chief Strategy Officer, MCEA St. Paul Office
On Wednesday, July 17, an announcement about the PolyMet mine proposal was made by PolyMet Corp and Teck, a global mining company based in Canada. Details were scarce, and MCEA has gotten a lot of questions about what happened, and what it means. We've compiled some of these questions and done our best to answer them.
What happened last week?
PolyMet Corporation (77%+ owned by Swiss commodities and mining corporation Glencore) and Teck Resources (a Canadian mining company) announced a joint venture. If approved by regulators, it will combine PolyMet's mine site, the defunct LTV Erie plant site, and the Teck Mesaba deposit, located three miles east of the PolyMet mine site. PolyMet Corporation will continue to exist, but PolyMet Inc., their wholly-owned American subsidiary, will now be split 50/50 between Teck and PolyMet Corp., and be renamed "NewRange Copper Nickel LLC." As part of the agreement, PolyMet and Teck agreed to evenly split the costs for legal, regulatory, permitting, and engineering work, and jointly committed to spending $170 million on these costs. 
However, the cost of developing a mine would be well over $1 billion, so while this is significant, it's not enough to build a mine. In addition, PolyMet and Teck lack permits needed to construct and operate a mine. 
Does this announcement change the status of permits issued to PolyMet that have been appealed?
No, this announcement has no immediate impact on the court cases challenging the permits issued to PolyMet. Permits that have been reversed by the courts, suspended or remanded to agencies remain reversed, suspended and remanded. The Teck Mesaba deposit has not undergone any environmental review or permitting. 
Who is Teck Resources and what else do they do?
Teck Resources is a Canadian mining corporation that is publicly traded on the Toronto Stock Exchange. The largest single shareholder in Teck is China Investment Corp, the Chinese government's sovereign wealth fund, which owns 10% of Teck's shares. Teck owns a stake in a number of copper, gold, zinc, molybdenum, coal and tar sands oil mining operations and smelters worldwide.  Teck's coal and tar sands operations add millions of tons of greenhouse gas pollution to the atmosphere. In 2021, Teck was fined $60 million (CAD) for water quality violations at a British Columbia coal mine, the largest fine under the Canadian Fisheries Act in history. 
Where is the Teck Mesaba deposit?
Teck has long held leases for the mineral rights of Mesaba deposit, a large, open pit, low-grade (less than 0.6% metal) copper-nickel ore body 3 miles east of the PolyMet mine site and south of the Northshore Peter Mitchell taconite mine. Ninety percent of the Mesaba deposit is in the Boundary Waters / Rainy River watershed, and the ore body straddles the Laurentian Divide. This means that, if developed, PolyMet and Teck's proposed mine could pollute both the Lake Superior and Boundary Waters watershed.  
How is the Mesaba deposit related to PolyMet's ore body? 
In 2003, Teck attempted to purchase the LTV Erie plant site and was beat to it by PolyMet. Since then, Teck has been quietly working to slowly advance this deposit, while periodically reminding local officials of their continuing interest. The composition and low-grade of the ore is similar to the PolyMet deposit but the total size is potentially much larger. 
In 2019, Teck completed a drilling program that allowed it to more precisely quantify the size of the deposit.  In the 2021 Annual Information Form filed by Teck with Canadian securities regulators, Teck reported the size of this deposit was more than double the size of the PolyMet ore body. Teck claims nearly 3.3 billion tons of mineral resources containing copper, nickel, gold, platinum and palladium, compared to PolyMet's claim of around 1.3 billion tons. 
What remains unknown about this joint venture?
Many details remain unclear or still need to be negotiated between PolyMet and Teck. For example, the press release announcing the joint venture notes that the following need to be completed before this joint venture is official: 
"Certain regulatory approvals," mostly from securities regulators in the U.S. and Canada
An "Investor Rights and Governance Agreement" between Glencore and PolyMet
An official joint venture agreement describing the 50/50 split between PolyMet and Teck
An "offtake agreement framework" that addresses the ownership of any ore that is produced - currently PolyMet has an offtake agreement that guarantees Glencore 100% of the ore, but that needs to be modified
 
Didn't the PolyMet environmental impact study look at the potential development of the Mesaba deposit? I thought that environmental reviews had to look at the cumulative impact of other planned mines nearby. 
No, the federal and state agencies that conducted the environmental review of the proposed PolyMet mine did not consider the cumulative impact of Teck's Mesaba deposit. It was "considered to be speculative" and was "not … mapped or considered in the cumulative analysis." 
I read that the federal government is going to ban mining in the Boundary Waters watershed for 20 years. Won't that prevent Teck from being developed?
You're referring to the federal mineral withdrawal currently being studied for 234,000 acres in the Superior National Forest where surface water flows in the Boundary Waters Canoe Area Wilderness. If approved, this action would prevent federal mineral rights in the area from being leased and mined. In addition, Rep. Betty McCollum has introduced a bill in the U.S. House to permanently withdraw these federal minerals, which was passed out of committee earlier in July. However, since the Teck Mesaba deposit consists of private and state mineral leases, the federal action under consideration would not prevent it from being developed.
Are there other legal cases or regulatory actions being considered right now that would impact the PolyMet/Teck proposal?
Yes, a lawsuit under the Minnesota Environmental Rights Act (MERA) filed by Northeastern Minnesotans for Wilderness may impact the ability to mine in the Boundary Waters watershed. Currently, the Minnesota Department of Natural Resources has agreed to review the effectiveness of Minnesota's mining rules at protecting the Boundary Waters from pollution in response to the lawsuit. If Minnesota's mining rules were to be changed to protect the Boundary Waters, this could impact Teck's ability to mine this site, which is 90% on land where polluted water would flow toward the wilderness. 
Does this make PolyMet more likely to be ultimately permitted and built? 
At this point, the merger is both a sign that PolyMet is foundering and needs outside assistance for its mine proposal, and a worrisome addition of a large, well-funded major mining company to the mix. With its major permits reversed and suspended (permit to mine, water pollution permit, and wetlands destruction permit), PolyMet is not able to build or begin mining. After 12 years of Glencore funding PolyMet alone, it has apparently decided to not continue with the "go it alone" approach and sought a partnership that will split costs and risks.
Its new alliance with Teck also adds a speculative, long-term possible ore body to the PolyMet proposal. This could result in a mega-mine that would more than double the size and scale of PolyMet's current proposal. 
It's not clear at this time whether this alliance makes any mine more likely. However, if both mine sites were to be developed, this would impact the Lake Superior headwaters and the Boundary Waters, and it would create a massive amount of dangerous mine waste tailings. Regardless of the likelihood, the magnitude of the threat just expanded.
PolyMet/Teck call their mine proposal a "clean energy metal" mine. Do we need to open this mine in order to build clean, renewable energy?
No, there are far better sources for the metals we need for clean energy and electric vehicles than a massive, low-grade open-pit mine in water-rich northern Minnesota. MCEA's "Mining the Climate Crisis" series dug deep into the propaganda that mining is necessary for clean energy. Advances in recycling, substitution of different materials, and reduction in unnecessary consumption can do far more than opening a new mine in Minnesota. Click here to learn more.