May 10, 2022
Reporting from the Range: Metal Recovery and Repair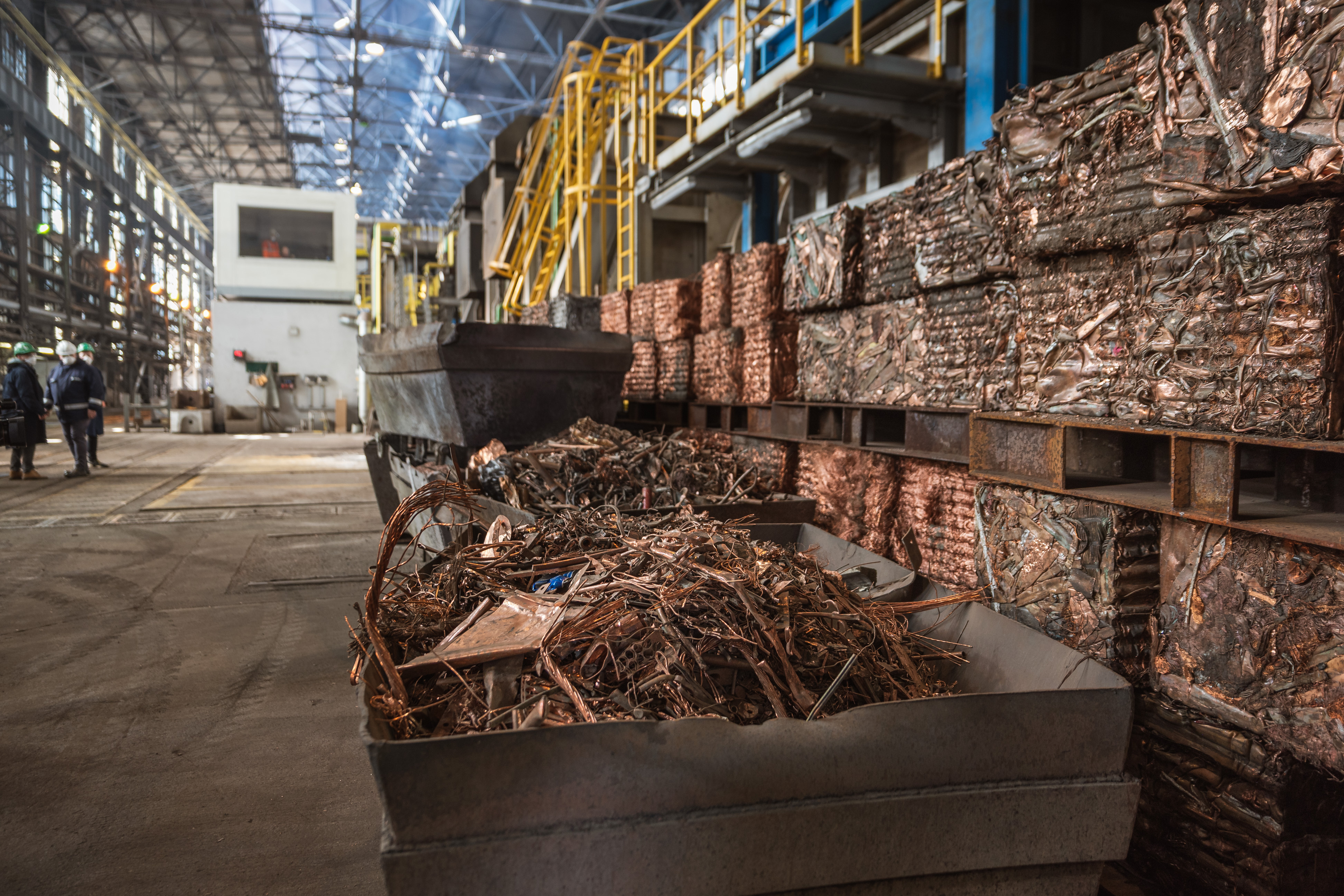 May 10, 2022, Abby Rogerson, Northeastern Minnesota Program Associate, MCEA Duluth Office
As decarbonization goes mainstream, mining companies are hopping on the bandwagon and increasingly branding their products as critical for the green economy. While demand for these so-called "critical minerals" is projected to increase, serious questions about the need for new raw materials and mining's role in the clean energy transition remain. Despite the unknowns, it's clear that we cannot simply mine our way out of the complex and multi-faceted problem of climate change.
_____
"Only we can save us from ourselves," Dr. Roopali Phadke reads to the crowd of Earth Fest attendees, strewn about the pews of Mountain Iron's Messiah Lutheran Church last Saturday. "I love that quote," she adds. Dr. Phadke is a professor at Macalester College and a climate policy expert. In a multiyear study called Mining Futures, she investigated the question: How do we sustainably and responsibly source green technology metals to address climate change?
The crowd listened as she reported the three tactics that emerged from her research: First, we can recover metals that are already above ground. Second, we can secure the right to repair, which would reduce demand for new goods and raw materials. Last, we can repatriate mining, meaning we bring the industry back to the U.S. after years of relying on imported metals.
Dr. Phadke went on to explain that recovery and repair not only prevent a future of landfill expansion and toxic pollution – they may actually be our only practical approaches to meet the urgent demand for clean energy metals, and save ourselves from repeating the mistakes of the fossil fuel era.
 CLEAN ENERGY IS URGENT. MINING WOULD TAKE DECADES.
One of the biggest hurdles in using new mining to produce metals needed for the energy transition is that it takes a long time, and climate action needs to happen now. 
This doesn't point to a need to "speed things up" in the environmental review process of mining proposals. Quite the contrary, the complexity of the process reflects the inherent destructiveness and risks of mining proposals, as well as specific flaws in applications. For example, PolyMet's first mine design was rejected by the U.S. Environmental Protection Agency because it would violate water quality standards, which forced them back to the drawing board. Subsequent appeals of permits issued to PolyMet have revealed even more flaws and risks. It's clear that until community members' valid concerns about the risks of mining are addressed, these fights will continue.
This situation is not unique to Minnesota. Mines across the country face justified local opposition, as the U.S.'s primary mining regulation, the General Mining Act of 1872, is outdated by over a century, allows mining companies to profit off public resources without paying royalties, fails to protect nearby communities from mining impacts, and passes the cost of cleanup on to taxpayers. 
According to Dr. Phadke, Ucore, a proposed rare earth element mine in Alaska, is likely the closest of any proposed mine in the U.S. to break ground, but it's stalled due to a lack of processing facilities. Another proposal in Wyoming has been permitted, but it's now on hold due to insufficient financing. So while many forces are working in the industry's favor – from high metal prices to government subsidies – antiquated mining laws, a lack of community buy-in, and inadequate processing capacity indicate that dramatic change would be needed to make new mining a realistic source of metals for the green economy. 
All of which is to say, even if we were to ignore its environmental impacts, new mining as a source for metals is a far-off solution to an issue that needs answers today.
ALL HANDS ON DECK FOR METAL RECOVERY
As discussed in a previous piece, metal recycling rates are low in the U.S. When asked what policy would most effectively boost metal recovery, Dr. Phadke replied that a sea change is needed both culturally and in the policy realm.
According to the Congressional Research Service, a lack of coordinated programs across jurisdictions is the primary barrier to recovering materials from waste. But decisionmakers across local, state, and federal levels all have tools at their fingertips to build up recycling systems.
Locally, we can begin with education. At the beginning of Dr. Phadke's talk, attendees chatted about confusing e-waste disposal standards and shared suspicions about where materials dropped off at recycling centers really end up. Cities and sanitary districts can work together to improve transparency and understanding around what is recyclable, where drop-off facilities exist, and why individuals' decisions to recycle matter. This is precisely what non-profit Ecolibrium3 is encouraging the City of Duluth and its sanitary district to do.
On state and federal levels, legislators can help create secondary metals markets with "carrots" and "sticks," such as tax breaks or other concessions for e-waste recyclers, outright bans on throwing away hazardous waste, or mandates for critical mineral recycling. Dr. Phadke advocates for a federal standard for e-waste management, which states could build upon. No matter the policy instrument, it's clear decisionmakers have the tools they need to boost metal recovery programs and markets. 
In addition to pursuing policy improvements, Dr. Phadke emphasized how important it is to change the way we think about recycling. She envisions a future in which metal recovery sheds its reputation as a dangerous, low-skill field, to become an industry leader in the clean energy frontier, employing workers in good-paying and safe jobs.
TO REPAIR IS TO REBEL
Another key way to recognize the value of metals is by keeping our most resource-intensive products as long as possible. This is tricky in a world of planned obsolescence, in which companies design products to work less effectively over time so people are forced to buy new models.
A well-documented example of this practice is Apple intentionally slowing down old iPhones. While many would prefer to simply pop in a replacement battery once their battery life starts declining, Apple makes this unnecessarily difficult. They make opening an iPhone complicated, refuse to sell replacement batteries, and they can lock the device if they detect repair that is "unauthorized," i.e., not done by Apple technicians. 
In response to these practices, Right to Repair bills are gaining steam in state legislatures across the country, including Minnesota. If passed, manufacturers would be required to make diagnostic information and spare parts available. This would allow third parties to enter the repair market, making it more competitive. With more robust repair markets, consumers could opt to repair rather than replace products, which would reduce demand for new goods and raw materials. According to the Public Interest Research Group, if everyone in Minnesota kept their cellphones for one more year, we'd save 132,000 tons of raw material annually – the carbon reduction equivalent of taking 10,800 cars off the road! 
In a tech-filled world, Right to Repair touches a wide range of industries and has galvanized a diverse set of advocates. Farmers are strong voices for Right to Repair, for example, as they need to be able to fix their own machinery to get back out in the field when the weather is right. Now that agricultural equipment is primarily run by computers, farmers are blocked by the manufacturers on a digital level from conducting their own repairs. That means they have to wait for John Deere technicians to show up when malfunctions occur – at a hefty cost.
"In a disposable society, to repair is to rebel," Dr. Phadke quoted from a Right to Repair activist's protest sign, near the end of her talk. As we transition to clean energy, movements like Right to Repair signify a growing realization that a green economy must move beyond the fossil fuel paradigm of endless extraction and consumption, towards one that treats natural resources as the precious assets they are.   
KEY TAKE-AWAYS
New mines will be challenged to demonstrate they can it can responsibly and sustainably supply the metals needed for the green economy.  
Government leaders could take action today to boost metal recovery programs and markets.
Legislation like Right to Repair promises to put more power back into the hands of consumers and reduce demand for resource-intensive products and new metals.
Note: A similar lecture by Dr. Roopali Phadke can be viewed here.